Miyagi Japan's 3/11 Reconstruction Event: The Tour de Tohoku 2016
日本宮城311復興イベント ツール・ ド・東北2016
일본 미야기 311 부흥이벤트 투어 더 토호쿠 2016
日本東北單車之旅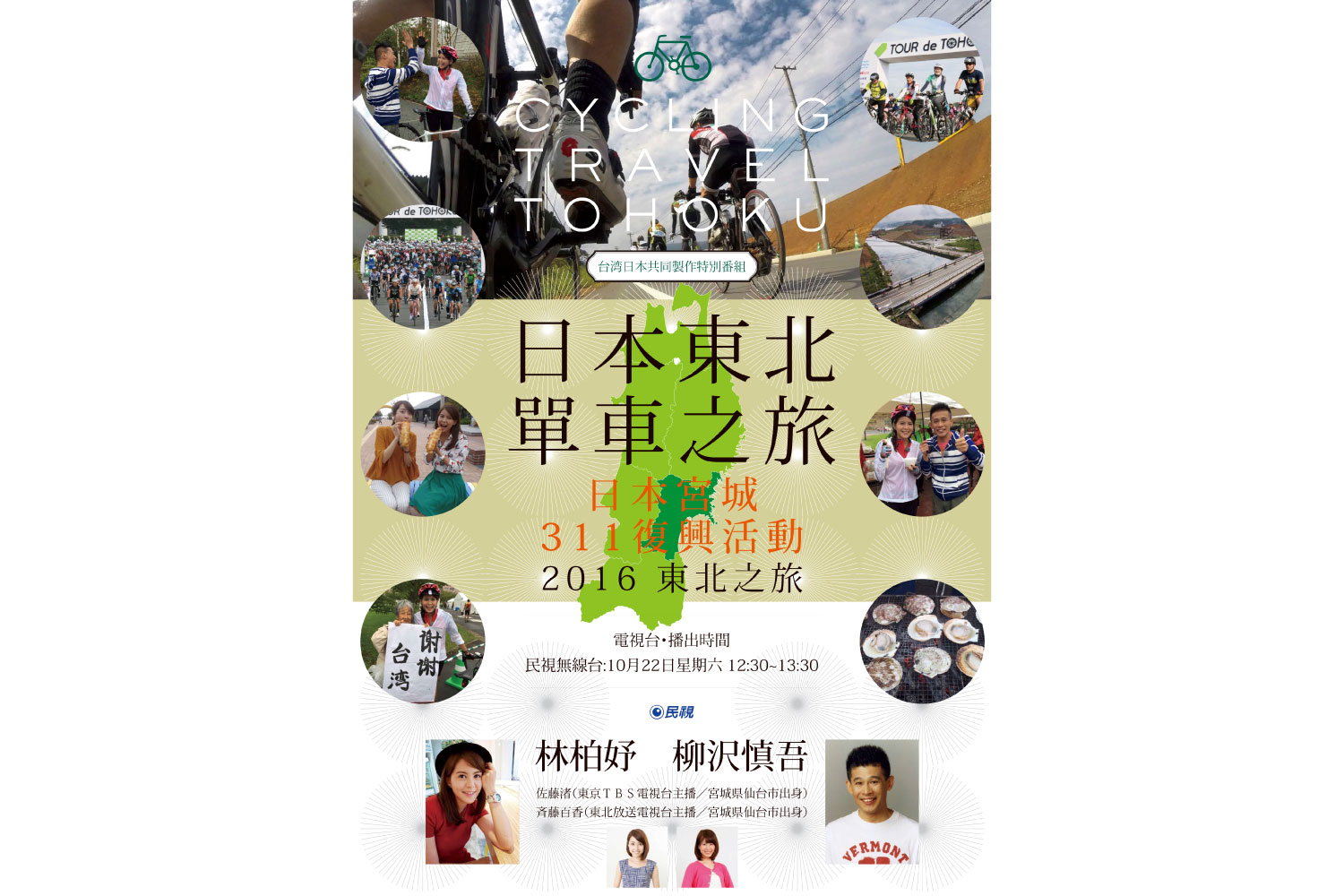 Synopsis
The Tour de Tohoku bicycle race was established to continually honor those who lost their lives in the Great East Japan Earthquake and Tsunami while paying great tribute to the support and reconstruction efforts that followed in its wake. By covering the Tour de Tohoku 2016, this program seeks to report on the current state of Miyagi's recovery following the disaster and introduce the prefecture's beauty and attractions.
東日本大震災からの復興支援・震災の記憶を未来に残していくことを目的とした自転車イベント「ツール・ド・東北」。この番組では、「ツール・ド・東北2016」でのツーリングを通じて、震災で被害を受けた宮城県の復興状況を伝えながら、宮城県の魅力を紹介します。
동일본대지진의 부흥지원과 재해의 기억을 미래에 남기는 것을 목적으로 한 자전거이벤트 「투어 더 토호쿠」. 이 프로그램에서는 「투어 더 토호쿠 2016」에서의 투어링을 통해 지진으로 피해를 입은 미야기현의 부흥상황을 전하면서 미야기현의 매력을 소개한다.
把東日本大震災的復興支援、震災的記憶留下給未來作為目的的自行車活動「TOUR de TOHOKU」。在這節目裏,通過「TOUR de TOHOKU 2016」的駕車遠遊,一邊傳達震災時受到災害的宮城縣的復興狀況,一邊介紹宮城縣的魅力。