REAL
リアル 〜完全なる首長竜の日〜   리얼~완전한 수장룡의 날~   完美的蛇頸龍之日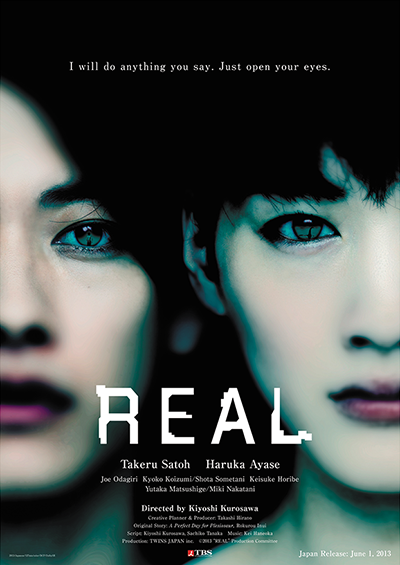 Broadcast Date
Japan Release : 2013.6.1
Episode / Duration
127 min.
Scenario Writer
Kiyoshi Kurosawa (黒沢清)
Sachiko Tanaka (田中幸子)

Cast
Takeru Sato (佐藤健)
Haruka Ayase (綾瀬はるか)
Miki Nakatani (中谷美紀)
Joe Odagiri (オダギリジョー)
Shota Sometani (染谷将太)
Keisuke Horibe (堀部圭亮)
Yutaka Matsushige (松重豊)
Kyoko Koizumi (小泉今日子)

One year ago, Atsumi apparently tried to commit suicide, and has been in a coma since then. Through 'sensing', a type of neurological treatment allowing communication with a comatose patient, Koichi tries to find out why she tried to kill herself, and to encourage her to wake up. Afraid of what he may find by going into her unconscious this way, but desperate to help bring her around and encouraged by her doctor, who says Koichi is vital to this happening, he undertakes the 'sensing'. Koichi explains to Atsumi that, depressed over her work as a manga artist, she tried to kill herself, that she has been in a coma for a year, and it is through sensing that they are having this conversation. He asks her why she attempted suicide, but she answers only that she wants him to find the plesiosaur picture.
---
1년전 아쓰미는 자살을 꾀하고 그 이후 혼수상태이다. 고이 치는 혼수상태의 환자와 의사소통이 가능한 뇌신경외과치료 의 일종인 센싱으로 그녀의 자살미수의 이유를 밝히고 아쓰 미를 혼수상태에서 깨우고자 시험한다. 당시 아쓰미의 심리 상태를 알아가는것에 불안함을 느끼면서도 그녀의 의식을 되찾고자 고이치는 의사의 의향에 따라 센싱을 시도한다.
고이치는 아쓰미가 만화일에 지쳐 자살미수를 했을것이라 며 1년간 혼수상태에 있어서 이렇게 센싱에 의해 두사람이 대화를 하고 있다고 아쓰미에게 전한다. 그리고 왜 자살을 하려 했는지 알고 싶다고 말하는 고이치에게 아쓰미는 대뜸 「수장룡의 그림을 찾아달라」고 말한다.
---
「淳美」在一年前自殺未遂後即陷入了昏睡狀態。淳美的男朋友 「浩市」在得知現代腦神經外科可以讓人與植物人進行意識溝通後,決心找出淳美真正自殺的原因並試圖讓她從昏迷中清醒。雖然浩市對於淳美為何自殺感到不安,但是為了要讓淳美恢復意識,浩市選擇了開始和淳美的意識進行溝通。
一直認為淳美的自殺原因是因為在漫畫家的工作上找不到靈感的浩市,就在他和淳美意識溝通後,淳美一直告訴他"去幫我找出那幅蛇頸龍的畫・・・"。到底真相是什麼呢?