TBS Facebook page attracts 1 million Likes as company strengthens global communications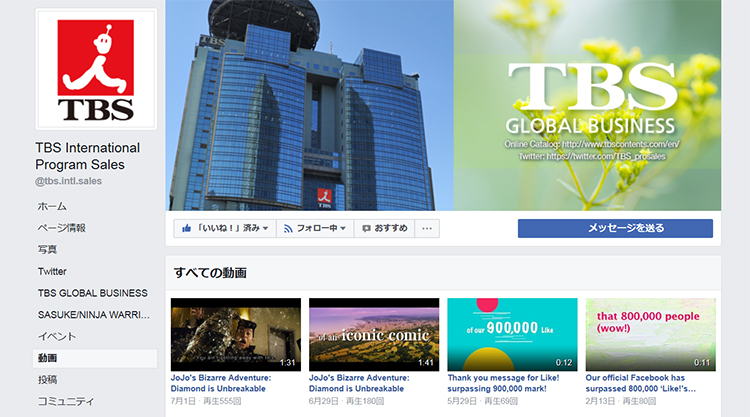 The Facebook page for TBS International Program Sales (Global Business) has reached 1 million Likes, the largest number for any official Japanese broadcaster Facebook page. Since September 2012, TBS has used this page to communicate, mainly in English, with people around the world about its content and global initiatives. Another key platform in the TBS global communications strategy is the company's own mobile responsive TBS Program Catalog website, which provides the latest information about TBS dramas, anime programs and movies, live action features films, and more in 80 languages.
On its Facebook page, TBS presents information not only about its content of every genre but also about its formats, which are the basis for locally produced megahit television programs around the world. Famous TBS formats include "SASUKE"/"Ninja Warrior," "Fun TV with Kato-chan and Ken-chan" (In the US, "America's Funniest Home Videos"; in the UK "You've Been Framed"), and "Takeshi's Castle." The TBS Facebook page also provides links to a wide range of media information about local productions of TBS formats. Over 99% of the page's 1 million Likes are from outside Japan, making the page a valuable resource as TBS grows its global fanbase.
TBS uses several other channels in conjunction with Facebook to extend its message globally, leveraging both still photographs and video content. Channel JAPAN is a joint initiative of Nikkei Inc. and TBS that presents up-to-date information on Japan via broadcast channels throughout Asia and on the Internet. TBS participates in JAPACON, an organization and website run primarily by the Visual Industry Promotion Organization (VIPO) that globally promotes Japanese content offered by a variety of Japanese broadcasters and other content creators. TBS also participates in a wide range of international content markets and events.
An early pioneer of promoting Japanese content on a global basis, TBS has been selling content and formats for over 50 years. Since TBS considers providing information to fans and decision-makers an essential part of its content and format sales initiatives, the company works continuously to refine and strengthen its domestic and international information strategies. TBS established its website at an early date, making it available in both Japanese and English versions. In 2009, TBS became the first Japanese broadcaster to put online a searchable content catalog (TBS Program Catalog) for international content and format buyers. TBS established its English Twitter account 2010. In 2015, TBS completely renewed its website, adding many new languages and optimizing it for smartphones and other mobile devices. Going forward, TBS will continue to leverage both social media and its website, delivering even stronger information in a variety of languages to create new fans and increase sales both in Japan and around the world.
Facebook boasts over 1.7 monthly users worldwide, with over 27 million of them in Japan (Facebook research). Thanks to its global reach, Facebook has become an important marketing and PR tool for corporations, governments, and other organizations.


TBS International Program Sales official Facebook page: http://www.facebook.com/tbs.intl.sales
TBS program catalog online: http://www.tbscontents.com/en/
TBS International Program Sales official Twitter account: https://twitter.com/TBS_prosales


■ About Tokyo Broadcasting System Television, Inc. (TBS)
With over 50 years of experience licensing programming overseas, Tokyo Broadcasting System Television, Inc. (TBS) has distributed programs of all genres – dramas, anime, documentaries, formats, movies – totaling several tens of thousands of hours of programming in over 160 countries worldwide and has firmly established its presence as a major content provider in the global arena. TBS is one of the most innovative broadcasters in creating variety formats, having licensed nearly 200 localized versions with several thousand episodes being produced including global hits like America's Funniest Home Videos, Takeshi's Castle/MXC, Sasuke/Ninja Warrior, etc. Looking ahead, TBS aims to further raise its profile overseas by expanding sales around the world of TBS hit shows and take advantage of new opportunities in the digital market place.