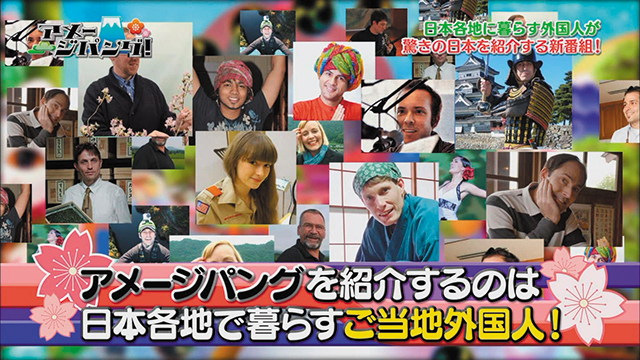 Episode / Duration
30 min series 30 min series
Non-Japanese nationals with an abiding love and knowledge of Japan often exceeding that of Japanese natives themselves, share their passion toward Japan with the world! Visit places they've learned about not found in travel guides, glean little known information about people and culture. Join foreigners residing all across Japan as they culture shock you and bring you the most intriguing and compelling discoveries they've made!
---
일본인보다 일본을 좋아하는 각지방의 외국인들이 세계에 일본을 알린다!
해외 가이드북에는 결코 실려있지 않은 일본의 장소, 사람, 물건등 모든 문화를 전한다. 각지방의 외국인들은일본전국에 존재하는 그들에게 있어서 매우 큰 문화적충격등을 리포트한다.
---
本節目尋找在日本各地比日本人還要更喜歡日本的外國人來介紹當地各式各樣的旅遊資訊。就讓日本全國的阿多仔來帶領您體驗在導遊書上絕對沒有介紹的人,事,物和當地文化吧!