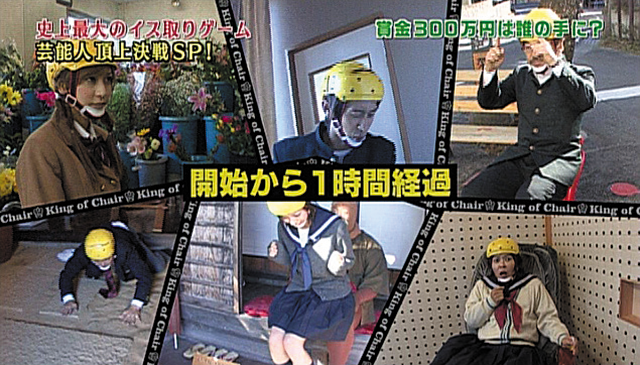 Episode / Duration
12 episodes 60 min. x 9 eps.
90 min. x 1 eps.
120 min. x 2 ep.
In a twist on the classic children's game, musical chairs, when the music stops it's time to find the chairs.Ten contestants are on the hunt for three winning chairs among hundreds of choices. As chairs are found, the contestants sit in them to find out if the chair is a winner. If the sensor sets off a winning bell, they win one of three spots in the episode's finale. If they hear the losing sound, look out!
---
누구나가 한번쯤은 해본적 있는 「의자앉기 게임」을 최대한 진화시킨 새로운프 로 그램이 탄생했다. 게임이 열리는 장소는 학교 등 비교적 규모가 큰장소이다.
점점 흩어지는 의자 를 제한시간내에 찾기 위해 참가연예인들 은 실내를뛰어다닌다.
게다가 이들이 가는 곳마다 함정이 숨어있고 겨우 찾은 의자마저도....
두근두근 조마조마한 의자앉기 게임에서 잠시도 눈을 뗄 수 없다!
---
任誰都曾經玩過的"搶椅子"遊戲。節目將這個家喻戶曉的遊戲進化並推展至極限。
遊戲的場所設定在像是學校之類的空曠而規模龐大的場地上。
為了在限定的時間之內找出分散在各地各角落的椅子,參加節目的藝人必須在場地內奔走尋找。
而且,在尋找的途中還有重重暗藏的陷阱,就算是好不容易找到的椅子...
相信緊張刺激的"搶椅子"遊戲定讓您目不轉睛。