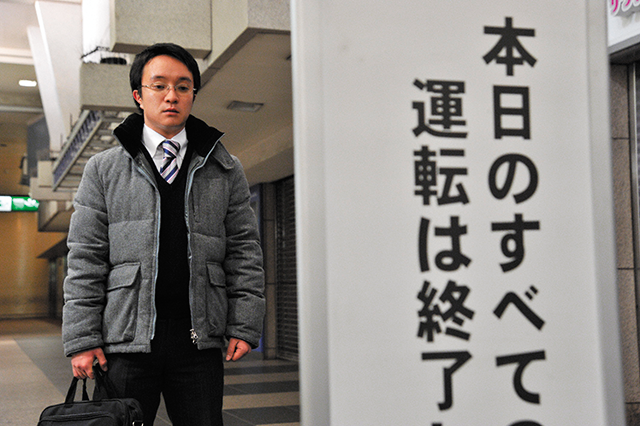 Broadcast Date
2013.1.14 ~ 2013.3.18
Episode / Duration
10 episodes 30 min. x 10 eps.
Scenario Writer
Hideto Iwai (岩井秀人)
Kenya Hirata (平田研也)

Cast
Gaku Hamada (濱田岳)
Mitsuki Tanimura (谷村美月)
Hayato Kakizawa (柿澤勇人)
Shuhei Takahashi (高橋周平)
Yukino Kishii (岸井ゆきの)
Tsuyoshi Nakano (中野剛)
Atsushi Yanaka (谷中敦)

If you missed the last train, and had no money to get home by other means of transport, and had to spend the night in and around a particular train station, what would you do? This is how our story begins, with the protagonist missing the last trine. He has no money with him and must figure out how to pass the time until the first train in the morning. Little does he knows of the encounters and "late night adult adventure" that await him and which will cause him to grow. A one-night romance with a mysterious and attractive woman? The suspense and perils of becoming embroiled in a criminal incident? Or an incident of interpersonal connectivity sure to make one smile broadly? Enjoy a brand new type of drama that will leave you thinking about missing your last train tomorrow.
---
만약 당신이 막차를 타지 못하고 다른 교통수단을 사용할 돈도 없이 어떤 역 주변에 서 하룻밤을 보내게 된다면…!? 이야기는 주인공이 막차를 놓치는 것에서 시작된다. 주인공이 가진 돈도 없이 첫차까지의 시간을 어떻게 보내는지가 그려진다. 막차를 놓 친 역, 그 주변의 거리, 거리에서 만나는 사람들에 의해 주인공이 하룻밤에 체험하는 「심야 어른의 모험」에서 주인공은 성장해 간다. 멋진 여성과의 하룻밤 로망 스!? 사 건에 휘말리는 서스펜스적인 전개!? 인간미를 느껴지는 미소가 번지는 일들!? 내일, 당신은 어쩌면 막차를 놓치고 싶어질 지도 모른다. 새로운 감각의 드라마.
---
如果有一天你錯過了回家的末班車,身無分文的你會如何在車站附近過夜呢?故事始於主角錯過了回家的末班車。身無分文的他如何撐到早班車為軸心發展。在那一夜,主角在錯過末班的車站附近和神秘女子的一夜浪漫,莫名其妙地被捲入懸疑事件,人與人之間奇妙的關連,讓人會心一笑的事。在體驗了一夜「深夜的大人冒險」,他所遇到人事物反而令他成長了不少。這是一部會讓您想要錯過末班車的精彩連續劇。