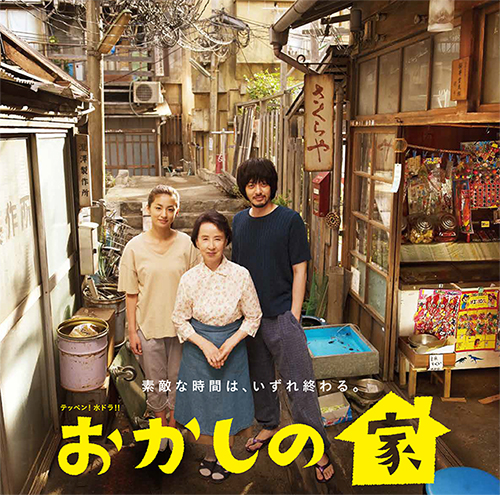 Broadcast Date
2015.12.23 - 2015.10.21
Episode / Duration
10 episodes 30 min × 10 eps
Scenario Writer
Yuya Ishii (石井裕也)
Yuichi Tomai (登米裕一)

Cast
Joe Odagiri (オダギリジョー)
Machiko Ono (尾野真千子)
Ryo Katsuji (勝地涼)
Tomoya Maeno (前野朋哉)
Kyusaku Shimada (嶋田久作)
Kaoru Yachigusa (八千草薫)

The setting is the Tsukishima district of Tokyo where the Summer Olympic Games will be held in five years. A small old-fashioned confectionary shop, "Sakuraya" stands as a remnant of the past amid the rapidly changing cityscape. Akiko Sakurai has been running the shop on a shoestring for over 50 years, along with her grandson, Taro (33) whom she raised form childhood after he lost his parents in a traffic accident. With them also is Reiko, a single mother who has returned to Tsukishima with her child. Seemingly left behind by a fast-moving world, Taro appears as something of a "loser" who finds himself reexamining his lost childhood in an effort to move forward. Life takes a strange turn when his grandmother, Akiko, receives a letter that she is being sued for damages because her cat, Mi-chan, allegedly scratched up a neighbor's luxury car. What should be an easy case to win turns into a fumbling mess at the hands of Taro who can't seem to win for losing in this wacky yet endearing and slightly heartwarming late-night drama.
---
올림픽 개최를 5년 앞둔 도쿄 쓰키시마.
재개발이 진행되고 급속하게 변해가는 마을모습과는 반대로 홀로 남겨진 작고 오래된 과자가게 「사쿠라야」. 50년이상 가게를 꾸려온 사쿠라이 아키코와 어릴적 부모를 여의고 할머니의 손에 자란 손자 타로. 타로의 소꼽친구로 싱글맘이 되어 돌아온 레이코. 세상의 눈으로 보면 사회에 뒤쳐진 흔히 말하는 별볼일 없는 남자인 타로는 자신의 소년시절을 되짚으며 열심히 인생을 살아보고자 다짐한다. 어느날, 할머니가 귀여워하는 고양이 미짱이 손해배상청구를 당하게 되고 언뜻보면 여유만만하게 이길 재판이 별볼일 없는 타로로 인해 다른 방향으로 틀어지는데…, 바보스럽지만 사랑스럽고, 작지만 가슴 따뜻한 휴먼드라마.
---
連續劇的舞台在東京的月島。距離東京奧運還有五年。在都市更新的計劃急速開發的同時唯一殘留下來的是一間又小又舊的粗果子店 - 櫻屋 在這間櫻屋裏住著三個人。 50年來一直用心經營粗果子店的老闆娘一櫻井明子,和她獨自撫養自小父母雙亡的孫子一太郎。 再來是太郎的青梅竹馬,禮子,一個離婚的單親媽媽。
太郎是個典型的社會邊緣人。他回首過往,努力地邁向人生前進。
就在某天,祖母明子飼養的貓-小咪引起了損害賠償的事件。從旁觀來看是個能夠輕鬆勝訴的事件卻因為這個太郎無法順利進行。這是一部歡喜溫暖,讓觀眾會心一笑的連續劇。