The Man with the God Tongue
神の舌を持つ男
擁有神之舌的男人
신의 혀를 가진 남자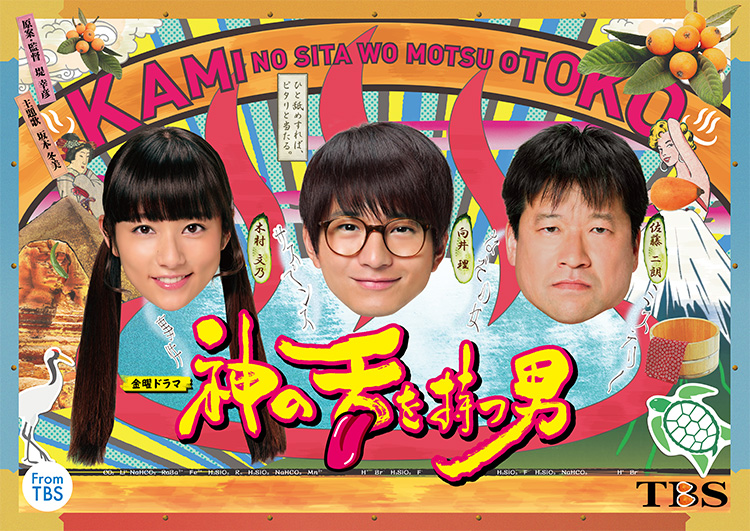 Cast
Synopsis
Ranmaru Tomonaga may be a bit naive and dorky, but he's got something of an endearing quality that is hard to dislike. Above all, he has a tongue like a gas-chromatography device, capable of analyzing whatever it comes in contact with. Sure enough, that tongue leads him into all kinds of trouble as he gets embroiled in solving one puzzling mystery after another. Along the way, he picks up a sidekick; an "uzakawa" (cute, but annoying) suspense drama fan girl named Hikaru Kamekanbo. They meet up with Kanji Miyazawa, a straight-laced man who is the only person capable of reining in the quirky pair and keeping them out of trouble. The three of them become traveling companions, traversing the countryside in a beat-up automobile, sleeping and eating in some of the nation's best-kept secret hot springs, and searching for the mysterious "onsen" geisha "Miyabi" in a comical mystery adventure.
살짝 촌스럽고 세상물정 모르지만 왠지 미워할 수 없는 도라에몽의 노비타와 같은 남자, 도모나가 란마루. 혀에 놓여진 것은 가스크로마토그래피처럼 분석하는 능력을 가진 그는 가는 곳마다 어째서인지 사건에 휘말리게 되고 그리고 사건을 헤결해나간다. 2시간 서프펜스드라마 매니어인 가메간 보히카루와 어디로 튈지 모르는 두사람을 예리한 잔소리로 정리하는 유일한 인격자(?) 미야자와 칸지. 전국의 비밀온천이라 불리는 온천지를 무대로 우연한 계기로 만난 세명의 남녀가 허름한 차를 타고 온천지에서 함께 지내며 수수께끼의 온천게이샤「미야비」를 찾아 일본전국을 여행하는 코믹 미스테리.
不諳世事,像哆啦A夢的大雄般一樣傻天真的男主角-朝永蘭丸擁有超高性能分析物質能力的神之舌。
每次都靠著他的神之舌破解謎樣事件。在他身旁的是女主角-終極兩小時懸疑劇迷的甕棺墓光和負責猛力吐槽容易暴走的男女主角-宮澤寬治。他們三人為了尋找傳說中的溫泉藝人「雅」。旅行全國,每到一個地點就被捲進不同案件的推理喜劇。一台破車擠了三個有趣的主角人物帶著觀眾一邊推理一邊傲遊日本溫泉聖地。
Scenario Writer
Takeharu Sakurai (櫻井武晴)
Duration
75 min. × 1 ep. / 60 min × 9 eps.
Episode
10 episodes
Broadcast Date
2016.7.8 - 2016.9.9
Links
Official Site (Japanese)