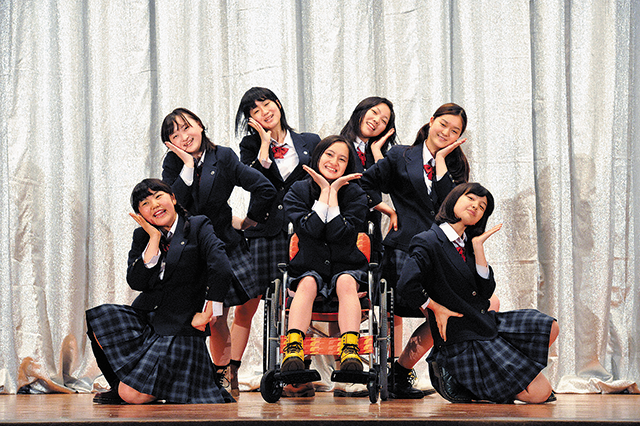 Broadcast Date
2013.4.22 ~ 2013.6.24
Episode / Duration
10 episodes 30 min. x 10 eps.
Scenario Writer
Cast
Rin Takanashi (高梨臨)
Kimiko Yo (余貴美子)
Amane Okayama (岡山天音)
Hiroya Shimizu (清水尋也)
Ini Kusano (草野イニ)
Denis (デニス)
Minori Hagiwara (萩原みのり)
Miku Uehara (上原実矩)
Aoi Koizumi (古泉葵)
Shinya Owada (大和田伸也)

Dropping out of high school and joining a bike gang, girl teen Makoto Kiryu's rough-and-tumble life thus far takes a new turn when she meets Rinko Kominato after a motorcycle accident. Rinko convinces Makoto to quit the biker gang and attend evening high school. Nine years later, the fully reformed Makoto is a college graduate and an upstanding physical education teacher who enjoys immense popularity among students. Having finally landed full-time status with her own class in her third year, life seems great until a bombshell drops from school principal. Makoto and her colleagues are being tasked with strengthening the school's dance program, a newly-mandated component of physical education. It is Makoto's worst nightmare come true. And God forbid that her students ever discover the truth: that she can't dance a lick.
---
고교를 중퇴하고 폭주족에 들어가 거친 생활을 보내고 있던 기류 마코토는 오토바이사고 를 계기로 고미나토 린코를 만난다. 마코토는 린코의 도움으로 폭주족에서 벗어나 정시제 고교에 다니게 된다. 그 후 9년, 고교졸업후 대학에 진학하여 체육교사가 된 기류 마코토. 학생들에게도 인기가 높은 마코토는 부임3년째를 맞아 담임을 맡아 교사생활을 보내고 있 었다. 신학기를 맞은 마코토에게 교장은「작년부터 체육에서 필수화된 댄스를 강화하기 위해 기류선생이 선두에 서서 지도해 줄것」이라는 발표를 하는데…. 체육교사이지만 몸 치인 마코토는 자신의 비밀이 학생들에게 알려지지 않도록 필사적으로 노력하는데….
---
高中輟學後加入了暴走族,每天過著荒廢生活的主角 「桐生真琴」因一次偶然的摩托車擦撞事故而認識了「小湊倫子」。桐生就這樣被倫子載走,脫離了暴走族並被送進了定時制的高中。過了九年後,重生的她順利進入了大學當上了國中的體育老師。受學生歡迎的她在第三年被升職當班級導師。原本以為就此一帆風順的她卻因新學期校長的命令而開啟了她痛苦的生活。原來從去年教育制度改定,體育課的跳舞項目變成必修,校長於是要桐生帶頭指導跳舞。雖然是體育老師,對跳舞卻一竅不通的她,要怎麼樣瞞天過海,不讓學生發現這個秘密呢?