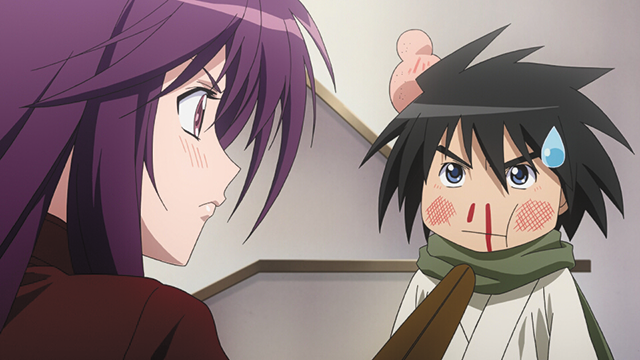 Broadcast Date
2009.1.8 - 2009.3.26
Episode / Duration
12 episodes 30 min. x 12 eps.
Yoichi has been raised in the mountains by his samurai father, and now has great athletic skill and swordsmanship. One day, his father tells Yoichi that staying with him would not further increase his skills, and so it is decided that to grow stronger in body and mind he is to move to the city. Entering an affiliated dojo in the city, Yoichi is pleased to find that four sisters live at the dojo: Ibuki, Ayame, Chihaya and Kagome. Seeing the big city and girls for the first time has got Yoichi all turned around! On top of that he's got to deal with bullies at school and assassins out to get him. With all these distractions will Yoichi ever get around to his studies to become a great samurai?
---
17 년간 산에서 아버지와 도를 닦은 소년검객 가라스마 요 이치 . 어느날 아버지로부터 「이대로라면 너는 더이상 강해 질 수 없어 !」라는 말을 듣고 훌륭한 무사가 되기 위해 도시 로 떠날 것을 결심한다 . 새로운 배움을 얻고자 도시로 나온 요이치는 같은 유파인 이카루가 이부키라는 소녀를 만나 , 이부키 자매가 사는 이카루가도장에 얹혀살게 된다 . 산생활 밖에 모르던 요이치는 이부키자매와 함께 학교를 다니고 여 러 강적들과 싸우면서 최강의 무사가 되려고 노력하며 성장 해간다 . 현대를 무대로 펼치는 사무라이 러브 액션코미디 .
---
少年劍士烏丸與一和父親一起在山中修行了17年。有一天, 父親對他說, 我已經沒有辦法讓你的武功更"高強"。想要成為更高深的武士, 他決定到都市去。為了修行, 與一進城去,寄宿在和斑鳩井吹姐妹們同一派系的道場。一直都住在山裡不懂世事的他, 從和對手交戰時, 不斷學習, 漸漸地茁壯成長, 於是他定下目標立志成為最強勁的武士!現代的武士·愛情·動作喜劇。