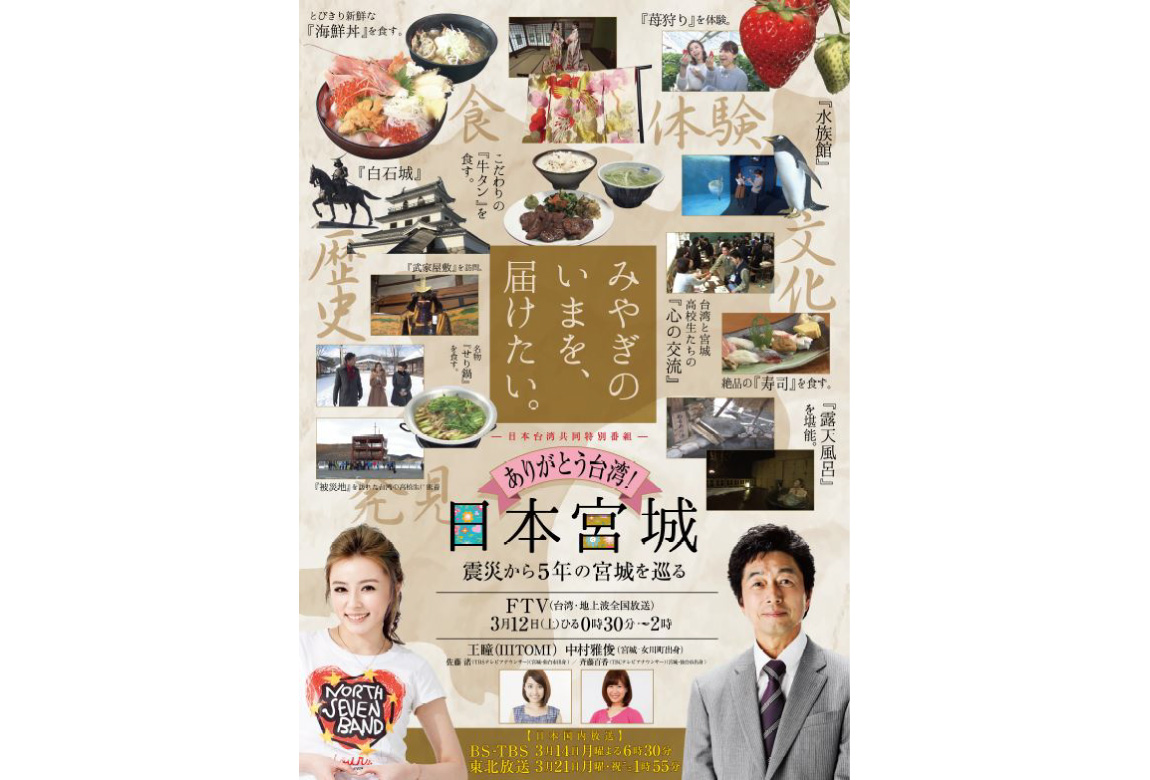 5 years have passed since the Great East Japan Earthquake and Tsunami of March 11, 2011. Miyagi Prefecture received donations and support from Taiwan as well as inspiring words of encouragement to become a place bustling with activity once again attracting travelers.
This program introduces Miyagi today as a highly attractive travel destination while simultaneously conveying the immense gratitude toward the people of Taiwan for all of their tremendous support in hopes of further building lasting bonds.
---
2016년 3월 11일, 동일본대지진으로부터 5년. 미야기현은 타이완에서의 성금과 구조물자, 격려를 받아 또다시 많은 여행자를 매혹시키는 장소가 되었다.
이 프로그램에서는 매력적인 여행지로서의 미야기의 현재를 타이완 사람들에게 보여줌으로서 타이완의 수많은 협력에 감사를 표함과 동시에 앞으로도 그 인연을 키워가고자 하는 마음을 담아 제작된 프로그램이다.
---
2016年3月11日,從東日本大震災經過了5年。領受了來自台灣的義捐錢、救濟物資和很多鼓勵的宮城縣,現在再次成爲了吸引很多旅客的充滿活力的地方。我們想請台灣的各位看富有魅力的旅游地方宮城的現在、復興時從台灣領受了的很多幫助表示感謝的同時、希望我們保持長久的友好關係。在這樣的心願裏,我們製作了這個節目。