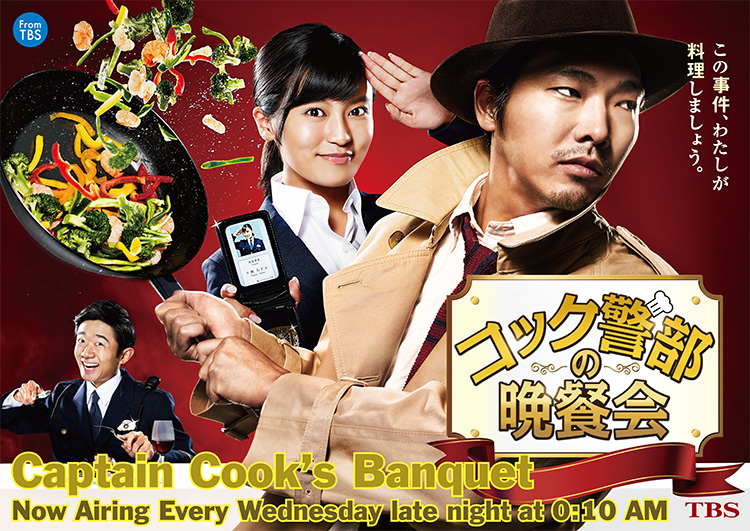 Hoshimitsu Kokku is a Criminal 1st Division cop with professional level culinary skills. Nicknamed "Captain Cook", he brings his own eccentricities and philosophy toward crime-fighting with the conviction that "Food doesn't lie." If there is one thing Captain Cook can't stomach, it is the thought of people getting away with murder and then being able to eat freely and sumptuously. So he recreates the meals of victims in an effort to understand them better in the course of his investigation, and invites suspects to a grand feast where he can smoke out the true criminal. His compassion and unwavering pursuit of criminals in the name of justice make him a new hero in the gourmet world. Meanwhile, constantly stressed to the max is his new partner, Azumi Nanase, who despite having fulfilled her dream of becoming a cop is diametrically different in personality and disposition from her partner. As a consequence, she is constantly stressed out being at the mercy of Captain Cook's freestyle sleuthing style and having to salvage the peace between her partner and his rival detective, Nekota. Nevertheless, Nanase and Hoshimitsu together make a crack crime solving team.
---
수사1과 특명경부에서 프로급 요리실력의"콕경부"라고 불리는 고쿠 호시미쓰. 그의 수사방침은"요리는 거짓말을 하지 않는다."이다. 어딘가 다른 독자적인 이론으로 자신만의 수사를 진행한다. 죄를 피해 좋아하는 음식을 태평스럽게 먹는 살인범을 절대로 용서하지 않는 콕경부는 피해자를 이해하기 위해 피해자가 먹은 음식을 재현하고 갖은 상상력을 발휘하여 추리해간다. 용의자들을 만찬회에 초대하여 범인을 밝혀낸다. 따뜻한 모습과 범인을 추궁해가는 흔들리지 않는 정의감에 미식업계에서 그는 새로운 영웅이 된다.
그런 콕경부와 콤비를 이룬 신입형사 나나세 아즈미. 꿈이었던 형사가 되지만 콕경부의 자유분방한 수사방식에 언제나 휘둘리게 되고 게다가 콕경부를 눈엣가시로 여기는 난폭한 네코다형사 사이에서 스트레스가 쌓여간다. 성격도 정반대인 견원지간의 두사람은 절묘한 콤비플레이로 사건을 해결해간다.
---
料理警探古久星三,偵查第一隊特殊事件處理刑警隊長,擁有三星級的精湛廚藝。他秉持著「美食不騙」的方針,根據自成一格的理論進行偵查。料理警探絕不饒恕殺人犯消遙法外還大啖自己愛吃的食物。為了深入了解被害人,他藉由重現被害人吃過的食物,循線思索進而達成推理。他邀請嫌疑犯們參加晚餐會,抽絲剝繭找出真正的犯人。柔情與追查犯人不阿的正義感兼具的料理警探,正是美食界的新英雄。和料理警探搭擋的,是新人刑警七瀨安純。雖然七瀨如願當上了夢想中的刑警,但料理警探不按牌理出牌的偵查風格卻常搞得她七葷八素,又被夾在視料理警探為敵且脾氣暴烈的貓田刑警之間,壓力實在有夠大!這對相處起來雞飛狗跳個性完全相反的搭擋,將以絕妙的節奏解決一個又一個的案件。