The Crimes That Bind
祈りの幕が下りる時   기도의 막이 내릴때   當祈禱落幕時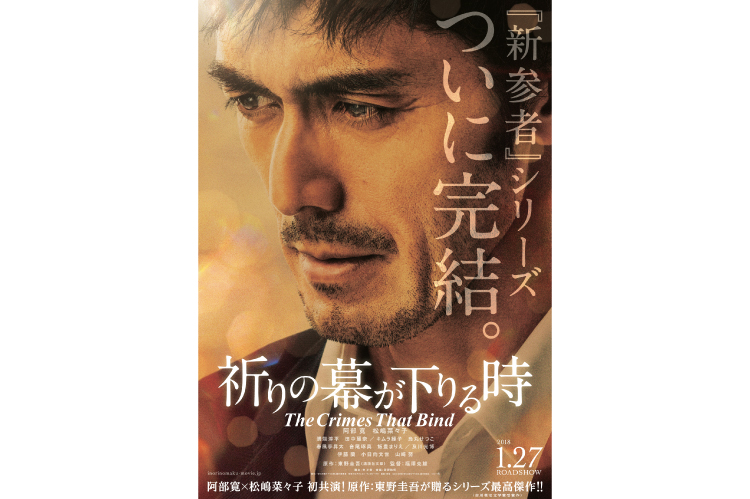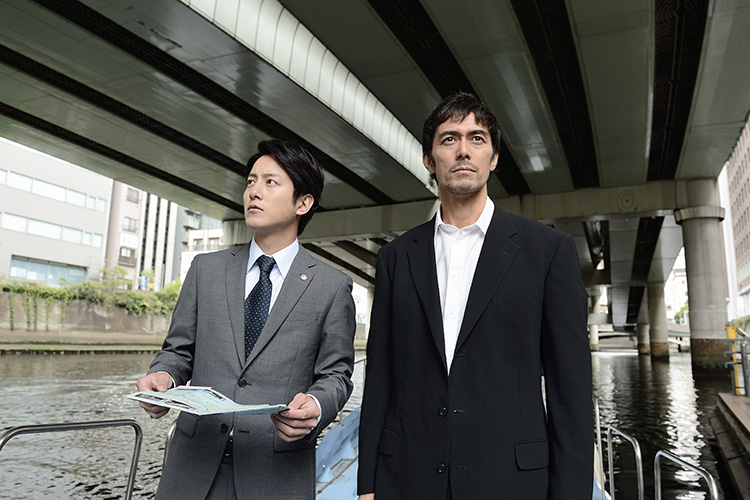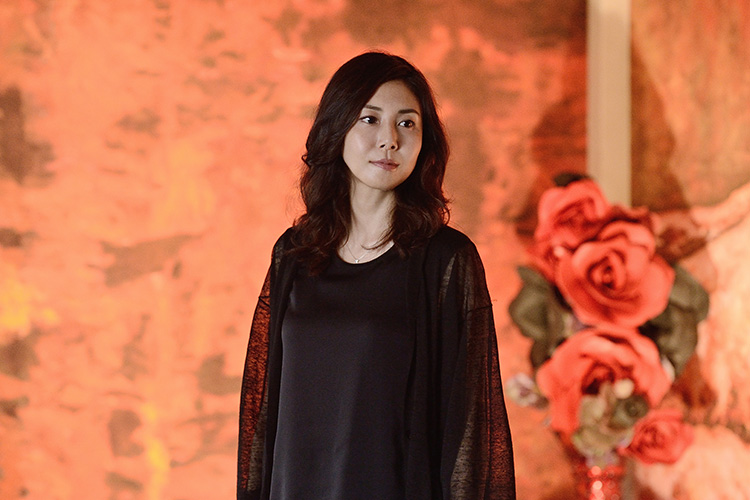 Broadcast Date
Japan Release: 2018.1.27
Episode / Duration
119 min.
Director
Scenario Writer
Cast
Hiroshi Abe (阿部寛)
Nanako Matsushima (松嶋菜々子)
Junpei Mizobata (溝端淳平)
Rena Tanaka (田中麗奈)
Midoriko Kimura (キムラ緑子)
Setsuko Karasuma (烏丸せつこ)
Shota Shunputei (春風亭昇太)
Takuma Otoo (音尾琢真)
Marie Iitoyo (飯豊まりえ)
Syouzou Uesugi (上杉祥三)

A woman is found strangled to death in an apartment in Tokyo's Katsushika Ward.
The victim is Michiko Oshitani, a resident of Shiga Prefecture who worked for a home cleaning company.
What's more, the occupant of the apartment where the murder took place, Mutsuo Koshikawa, has gone missing.
Matsumiya (Junpei Mizobata) and his fellow detectives of the Tokyo Metropolitan Police's Investigation Section 1 begin investigating, but hit a brick wall when they fail to find any links between Oshitani and Koshikawa.
Why was Oshitani, who lived in Shiga, killed in Tokyo?
Eventually, the detectives' inquiries lead them to a theater director named Hiromi Asai (Nanako Matsushima).
They learn that Oshitani came to Tokyo to visit her former classmate Asai, but again come up with nothing when searching for connections between Asai and Koshikawa, and their investigation grinds to a halt.
Matsumiya has a hunch that a charred corpse found nearby the murder scene may have some relevance to the case, and subsequently discovers an item among the victim's belongings with the names of Nihonbashi's 12 bridges written on it.
When Kyoichiro Kaga (Hiroshi Abe) learns of this, he is deeply shaken.
It is somehow connected to his mother, who died alone...
---
도쿄 카쓰시카구 코스게에 위치한 아파트에서 여성의 교살사체가 발견된다.
피해자는 하우스 클리닝회사에 근무하는 사카현출신의 오시타니 미치코.
살해현장의 아파트 주민・고시카와 무쓰오도 행방불명이다.
마쓰미야(미조바타 쥰페이)를 포함한 경시청수사제1과의 형사들이 수사에 임하지만, 오시타니 미치코와 고시카와 무쓰오와의 관계가 전혀 발견되지 않고 수사는 난항을 겪 는다.
시가현에 사는 오시타니가 왜 도쿄에서 살해되었는가?
머지않아 수사선상에 떠오른 여성연출가・아사히 히로미(마쓰시마 나나코)
오시타니 미치코가 동창인 아사이 히로미를 만나러 도쿄에 온것을 알게 되지만, 아사 이 히로미와 고시카와 무쓰오와의 관계가 밝혀지지 않은채 수사는 진전을 이루지 못한 다. 마쓰미야는 근처에서 발견된 소사체와의 관련을 의심하며 수사를 이어가고 그 유 품에 니혼바시를 둘러싼 12개의 다리이름이 씌여진것을 발견한다.
그 사실을 알게 된 가가 쿄이치로(아베 히로시)는 몹시 동요한다.
바로 고독사한 쿄이치로의 어머니와 관련이 있기 때문이었다.
---
東京都葛飾區小菅的公寓裏發現被絞殺的女性屍體。
被害者是住在滋賀縣,於房屋清掃公司工作的押谷道子。
同住在案發公寓的越川睦夫也下落不明。
松宮(溝端淳平飾)與警視廳捜査一課的刑事警察們進行調查後,完全都找不到押谷道子和越川睦夫的關連證據,使得案情膠著。
住在滋賀縣的押谷倒底為何在東京被殺?
線索隨著調查漸漸浮出台面,原來押谷道子是為了與學生時代的同學舞台劇女導演・淺居博美(松嶋菜菜子飾)見面才來到東京。但仍舊查不出淺居博美與越川睦夫之間的關連證據,調查停滯不前。

松宮懷疑該事件與附近被發現的焦黑屍體有關,在進行調查時,發現遺物中寫著日本橋附近的12座橋名。知道這一事實後的加賀恭一郎(阿部寛飾)情緒顯得激動。因為,這跟孤獨死去的加賀母親有關。