Tomorrow's Joe
あしたのジョー   내일의 죠   小拳王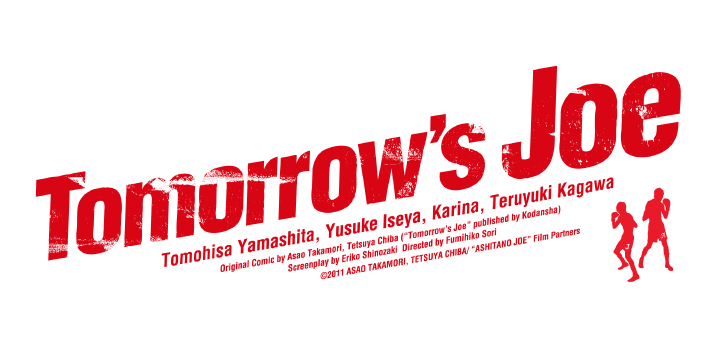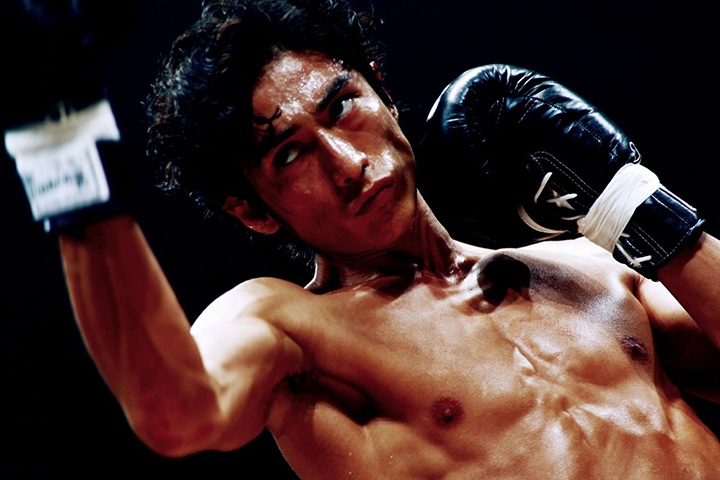 Broadcast Date
Japan Release: 2011.2.11
Episode / Duration
137 min.
Scenario Writer
Cast
Tomohisa Yamashita (山下智久)
Yusuke Iseya (伊勢谷友介)
Karina (香里奈)
Teruyuki Kagawa (香川照之)
Masahiko Tsugawa (津川雅彦)
Mitsuko Baisho (倍賞美津子)

The late 1960s. Alone, young man who spends his days brawling and stealing drifts into a Tokyo flophouse district. His name is Joe Yabuki. There, he meets alcoholic former boxer Danpei Tange, who senses a natural born fighting talent in Joe. However, soon after Joe is sent to a reformatory for assault.
Danpei sends Joe a letter while he's incarcerated. Entitled "For Tomorrow," it explains the basic boxing technique of the jab. Even inside, Joe stirs up trouble and gets into fights during which he encounters a powerful, champion-level pro boxer named Rikiishi. After their release from incarceration, Joe and Rikiishi both progress as professional boxers in their respective weight classes. Joe vs. Rikiishi – the ring of the bell sounds their destiny!
---
1960년대. 도쿄의 허름한 판자촌에서 아무렇게나 살아가는 야부키 죠. 그의 타고난 몸놀림을 알아본 알코올중독자인 전직복서 단게 단페이에 의해 복서로서의 센스를 키워나가지만, 상해사건을 일으킨 죠는 형무소로 가게 된다. 이곳에서 챔피언레벨의 실력 을 가진 프로복서 리키이시 토오루와 운명적으로 만난다. 단페이로부터 「내일을 위해서」라고 씌여진 복싱 연습방법이 적힌 편 지가 죠에게 전달된다. 리키이시를 이기기 위해 열심히 복싱트레이닝을 시작하는 죠. 형무소내에서 열린 시합에서 죠와 리키이시 는 무승부로 시합을 마치고 라이벌로서 서로에게 끌리기 시작한다. 출소후 두사람은 서로 다른 체급으로 프로복서로서 순조롭게 성장해가고, 리키이시는 세계타이틀을 거머쥘 자리까지 올랐다. 리키이시는 세계타이틀시합전에 죠와의 대전을 원하고 그의 열 의는 체급을 초월한 대결을 실현시킨다. 죠와 리키이시・・・ 드디어 운명의 벨이 울린다!운명의 만남, 숙명의 대결.
---
昭和40年的東京,矢吹丈在宿民街過著打殺的生活。天性不羈的他,一天遇見了沉溺於酒精的前拳擊手 丹下段平,同時並發掘了丈的拳擊才華。但不久後因為闖禍,丈被送進了少年院。在那他遇見了擁有冠軍 水平能力的職業拳擊手力石 徹。在獄中的某天,他收到段平的來信上面寫道「為了明天」。而為了能打敗 力石他開始遵循段平寫給他的拳擊法,並開始埋頭苦練。在一次少年院的比賽中,兩人最後被判平手也因 此激發了彼此的敵對心。離開了少年院之後,兩人各以不同量級的職業拳擊手身分,紛紛順利進級。力石 更以驚人的成長欲奪世界冠軍之座。就在世界冠軍賽之前,力石表示欲向丈對戰,也因為他的執著實現了 這場超越量級的對決。
丈VS力石…現在,正展開了命運的決戰。這是命運的相遇,宿命的對決。