The Floating Castle
のぼうの城   노보우의 성   傀儡之城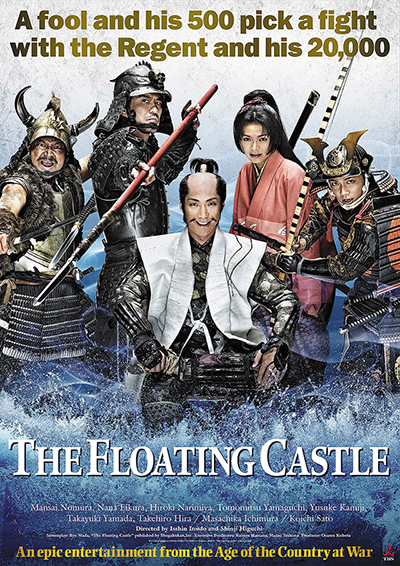 Broadcast Date
Japan Release: 2012.11.2
Episode / Duration
145 min.
Director
Isshin Inudo (犬童一心)
Shinji Higuchi (樋口真嗣)

Scenario Writer
Cast
Mansai Nomura (野村萬斎)
Nana Eikura (榮倉奈々)
Hiroki Narimiya (成宮寛貴)
Tomomitsu Yamaguchi (山口智充)
Yusuke Kamiji (上地雄輔)
Takayuki Yamada (山田孝之)
Takehiro Hira (平岳大)
Masachika Ichimura (市村正親)
Koichi Sato (佐藤浩市)
Gin Maeda (前田吟)

Nearing the end of Japan's long years of civil war, with Toyotomi Hideyoshi one short step away from finally uniting the land under his rule, he sends a massive army north against the Hojo clan, his last enemy. The one stronghold he cannot take is Oshi Castle, a Hojo outpost in the land of Bushu. Called 'the floating castle' because of the lake that surrounded it, it is under the command of one Narita Nagachika, an extremely popular ruler known to the people of his domain as 'Nobou-sama', from deku no bou, or 'blockhead'.
---
때는 전국시대 말기 . 천하통일을 목전에 둔 도요토미 히데 요시는 관동의 거장 호조가에 대군을 투입했다 . 거듭 승전 하면서도 마지막까지 손에 넣지 못한 곳이 있었다 . 부슈 오 시성 . 주위가 호수로 둘러싸여 떠 있는 성이라는 별명을 가 진 이 성은 백성들로부터 얼간이님으로 불리며 그 누구도 맞서지 못할 정도의 인기로 민심을 장악하는 나리타 나가치 카라는 성주가 있었다 .
---
戰國時代末期。眼看即將完成統一天下大業的豐臣秀吉,下令派大軍攻佔關東最大勢力的北條家。為的就是攻下那裡最後的支城,也就是武州(Bushu)忍城(Oshijyo)。由於四周湖水環繞亦被人稱作「浮城」;那裡的城主成田 長親(Narita Nagachika)雖然被老百姓比喻成木偶還戲稱他為「木偶大人」,但他以無敵的人氣掌握了人心。