After-Hours Horror Stream
심령 방송의 밤   靈異線上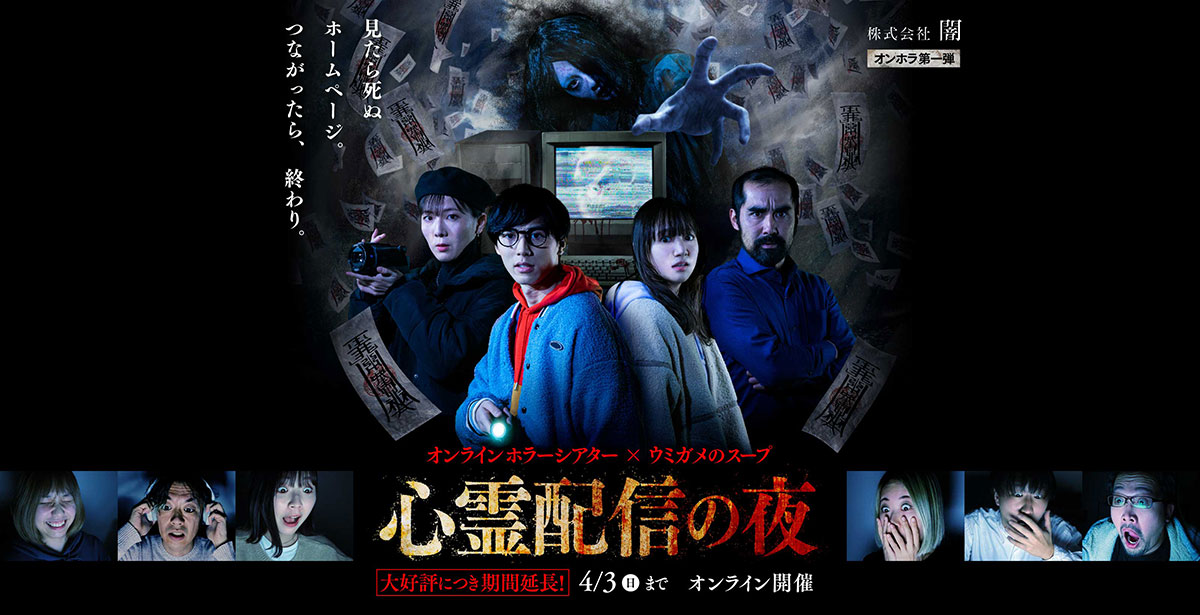 A live streamer visits a cursed website.
You were just a viewer watching the show...
or so you'd thought.

"There's a website that kills all who see it."

In order to confirm this rumor, a live streamer attempts to access the website at the abandoned building where a gruesome incident took place. You start watching not expecting much, but things take a sudden turn for the worse. Something unknown is caught on camera, and terrifying, unexplainable phenomena start to occur. Eventually, the horrid curse befalls the streamer and viewers. Yes, it seems the curse has got you as well, simply because you were connected online.

Event Details
1. Mission
All participants take on the challenge of lateral thinking puzzles
The curse will come to you through the Internet. The key to dispelling the curse is a mystery game based on the famous "Albatross Soup" riddle. Join hands with the streamer and other viewers to uncover the truth hidden behind the curse.

2. Functions
A communication tool that drives the story along
Communication between the streamer and viewers is made possible through chat and survey functions. A simple word or action of yours could have a great effect.

3. A Horrifying Experience
A horrifying experience only possible online
Something caught on camera... A website where mysterious phenomena take place... A voice so eerie it can't be real... You were supposed to be safe as long as you were just watching on your monitor.
Darkness Inc. delivers the ultimate scare and curse.
Now, immerse yourself in shocking online horror.

---
저주받은 홈페이지를 취재하는 온라인 스트리머.
당신은 그 방송을 시청하고 있는 것뿐
…하고 있을 터였다.

「보면 죽는 홈페이지가 있대…」

그런 소문의 진상을 확인하기 위해, 한 온라인 스트리머가 사건의 무대가 된 폐허에서 홈페이지에 접속하려고 시도한다.
그 라이브 방송을 재미로 보기 시작한 당신.
그러나 점점 최악의 상황이 전개된다.
카메라에는 알 수 없는 무엇인가가 찍히고, 원인 불명의 괴기 현상이 잇달아 벌어진다.
그리고, 결국 스트리머와 시청자에게는 무서운 저주가 닥친다…
아무래도 당신도 저주를 받은 것 같다.
그들과 연결되어 있었다는 이유만으로.

이벤트 특징
1. 미션
참가자 전원이 "바다거북 수프"를 모티브로 한 추리 게임에 도전하기
저주는 인터넷을 통해 당신에게도 닥쳐올 것입니다.
저주를 푸는 열쇠는 "바다거북 수프"를 모티브로 한 추리 게임.
온라인 스트리머 그리고 시청자가 서로 협력하여, 저주 뒤에 숨겨진 진실을 밝혀야 합니다.

2. 기능
스토리를 움직이는 커뮤니케이션 툴
방송 채팅 창과 설문 조사 기능으로 온라인 스트리머 그리고 시청자들이 소통할 수 있습니다. 당신의 말 한마디나 사소한 행동때문에 무슨 일이 일어날지도 모릅니다.

3. 공포 체험
온라인 특유의 공포 체험이 당신에게 다가온다
카메라에 찍히는 무언가… 괴기 현상이 일어나는 홈페이지… 귀를 덮치는 소름 끼치는 목소리…. 화면의 이쪽은 안심 안전할 줄 알았는데….
주식회사 암흑이 최고의 공포와 저주를 당신에게 제공합니다.
자, 이제 최강 온라인 호러에 몰입합시다.
---
一位直播主採訪一個被詛咒的網站。
你只不過是觀眾之一。
但是,誰知道……

"世界上居然有…… 看了就會死的網站"

為了證實這個傳言的真假,一位直播主試圖在事故發生的廢墟裡上網訪問該網站。
你為了好玩才開始觀看那個直播,誰知道卻被捲入最壞的局面。
鏡頭拍到了一些東西,原因不明的詭異恐怖靈異事件不斷地發生。
最後,可怕的詛咒降臨到了直播主和觀眾身上……。
沒錯,被詛咒到的好像也包括你。
因為你與他們連線了。

活動詳情
1.任務
所有參加者將接受《海龜湯》情境猜謎遊戲的挑戰
詛咒將透過網路降臨到你身上。
想要破解詛咒,必須參加以《海龜湯》情境猜謎遊戲為主題的推理遊戲。
直播主與觀眾一起找出隱藏在詛咒背後的真相。

2.功能
推動故事的溝通工具
透過即時聊天室功能和問卷調查功能,直播主和觀眾之間可以進行交流。透過你的一句話或一個行動,都有機會扭轉乾坤。

3.恐怖體驗
只有在網路上才能體驗到的恐怖
鏡頭拍攝到一些東西……發生詭異現象的網站……襲擊耳朵的恐怖聲音……
但是無知的你,還以為電腦螢幕的這一頭是安全的……。
株式會社闇將為你帶來手心淌汗、頭皮發麻的詛咒。
盡情沉浸在毛骨悚然的線上恐怖傑作中吧!