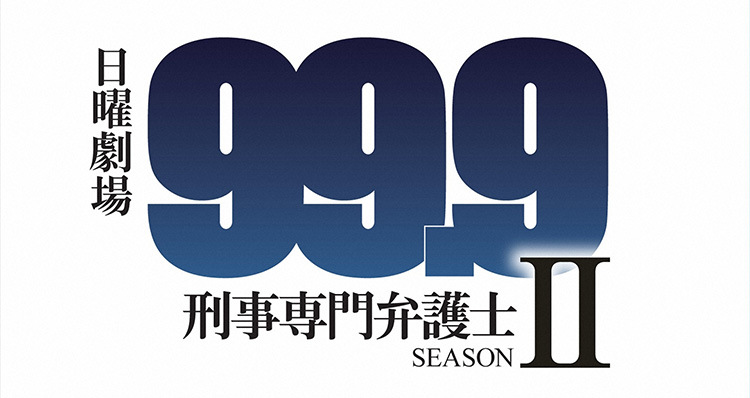 Broadcast Date
2018.1.14 - 2018.3.18
Episode / Duration
9 episodes 114 min × 1 ep / 85 min × 2 eps / 80min × 2 eps / 60min × 4 eps
Scenario Writer
Cast
Jun Matsumoto (松本潤)
Teruyuki Kagawa (香川照之)
Fumino Kimura (木村文乃)
Jin Katagiri (片桐仁)
Maggy (マギー)
Azusa Babazono (馬場園梓)
Toru Baba (馬場徹)
Kurara Emi (映美くらら)
Takafumi Ikeda (池田貴史)
Yukino Kishii (岸井ゆきの)

Miyama is an unorthodox lawyer who loves to take on criminal cases with a 99.9% chance of verdict certainty, and search for that minuscule nugget of truth that can overturn it. The "99.9 Criminal Lawyer" returns for a second season after taking the television world by storm starting April 2016. Providing more of the high courtroom drama unique to the series, this second season delves into Miyama's battle with a judge as he seeks to uncover that 0.1% shred of evidence that can win a case. A young woman visits his law office claiming her father has been wrongly accused of murder. She is accompanied by a friend and former judge who insists Miyama litigate for a reduced sentence since a guilty conviction seems a foregone conclusion. But a surprised Miyama and partner, Sada, take on the case instead to pursue the whole truth against the wishes of their client.
---
파격적인 변호사 미야마가 역전불가능하다고 여기는 형사사건에 도전하는 『99.9- 형사 전문 변호사 -』
2016년4월에 방송하여 큰화제를 불러일으킨 드라마의 속편이다.
"99.9월드"라고도 불리는 독특한 오락성은 그대로 살리면서 시즌2에서 는 재판관과의 공방도 그려진다. 사법세계를 무대로 0.1%에 숨겨진 사실에 어떻게 다가가는지 주목할 만하다.
미야마가 근무하는 마다라메 법률사무소에 살인사건으로 기소된 아버지의 무죄를 주장하는 딸의 의뢰가 찾아든다. 미야마와 동료인 사다가 담당을 맡게 되고 딸과 함께 온 친구이자 전재판관인 마이코는「의심할 여지가 없 는 유죄이니 정상참작으로 감형이 되도록 변호해달라」고 부탁한다.
무죄를 밝혀줄 의뢰를 예상하고 있던 사다는 놀라고 진실된 사실만을 추구 하는 미야마와 대립한다.
---
一直用不拘常規作法的律師·深山,挑戰反轉不可能刑事案件『99.9-刑事專門律師-』。在2016年4月期廣播時,成為大話題的電視劇續集。繼承"99.9世界"的獨特娛樂性的故事中,SEASONⅡ描寫了與法官的攻防。最需要關注的是在司法界中,怎樣逼近被掩蓋的0.1%的事實。

深山工作的斑目法律事務所裏,來了一個請求要救被控謀殺案的父親的女兒。深山和同事佐田兩個人應對的時候,陪伴女兒的好朋,前法官的舞子,告訴他們「一定是有罪,沒有任何懷疑的餘地,所以我要你們為她父親用量情變成減刑」。估計她們是要要求證明冤枉的佐田吃驚, 便與想追查真相的深山發生衝突。