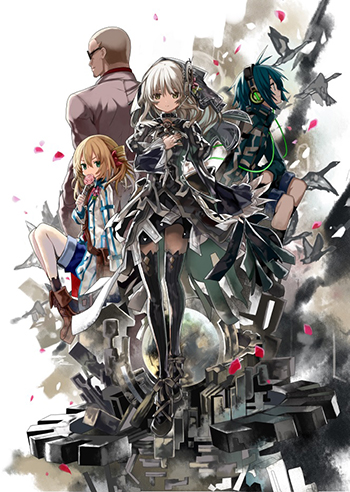 A thousand years after the world was rebuilt with clockwork, machine-obsessed Naoto Miura becomes the master of an automaton named RyuZU. When this beautiful piece of machinery crashed into his apartment, Naoto's superhuman hearing allowed him to fix her broken cogs—but little did he know it would land him squarely in the middle of a horrific government conspiracy! Teaming up with a pint-sized clock technician and her trusty bodyguard, they set out to fix more than just the broken gears of the world.
---
천년전에 한번 멸망한 지구를「Y」라고 밝히는 전설의 시 계기술자가 시계장치로 재건축한 세계.
낙오자 고등학생 미우라 나오토는「Y」가 남긴 자동인형(자 동기계)의 용두, 그리고 천재시계기술자 소녀 마리를 만난 다. 그들의 능력이 일치하는 순간 운명의 톱니바퀴가 움직 이기 시작한다.
파탄과 연명을 되풀이하며 붕괴직전의 지구 「클락워크 플 래닛」을 복원하는 클록펑크판타지.
---
1000年前一度毀滅的地球,由自稱"Y"的傳說中的時鐘技師以時鐘機關再構築而成的世界。
吊車尾高中生,見浦直人,與"Y"所留下的自動人偶(機械人偶)琉珠,以及天才時鐘技師少女瑪麗相遇了。當他們的能力相互配合成功時,命運的齒輪開始轉動。
不斷重複破裂與延命,將即將崩壞的地球("時鐘機關之星") 修復的時鐘朋克・幻想劇!