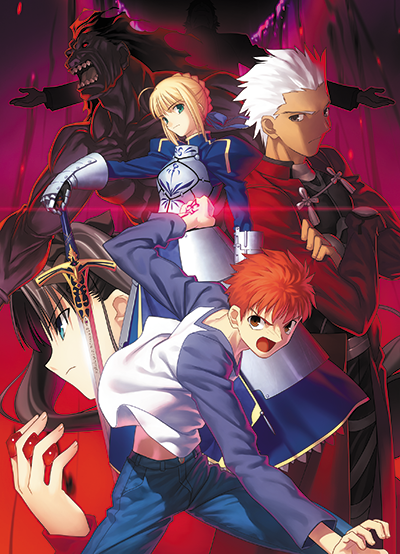 Broadcast Date
2006.1 - 2006.6
Episode / Duration
24 episodes 30 min. x 24 eps.
At destined intervals throughout history a war is fought between seven masters of sorcery. A world away from this super natural conflict is high school student Shiro. He never had what it took to be a great sorcerer, but when he witnesses a battle between two rivals in this conflict he is pulled into the fray. Suddenly an iron-clad woman named Saber materializes to defend him. She is one of seven heroes from past ages called Servants, summoned to help their master in this battle of attrition. Since the fighting is done by the Servants, Shiro accepts his role, assuming he will be safe from harm and in no position to harm others.
But he soon learns that his role is not nearly so simple.
---
옛날에 마을 전체가 타버리는 큰 화재가 있었다 . 거기서 묵숨을 잃을 뻔한 어린 시로를 마법사 에노미야 기리쓰구 가 구해준다 . 그후 10 년이 지난후 시로는 어떤 일이 계기 가 되어 마법사들이 싸우는 성배전쟁에 휘말리게 된다 . 그 것은 소원을 들어준다는 성배를 손에 넣기 위해서 7 명의 마법사와 그의 전사들이 싸우는 쟁탈전이었다 . 그 전쟁에 서 시로는 10 년전에 있었던 화재가 성배전쟁 때문이었다 는 것을 알게 된다 .
---
在一個歷經漫長歷史考驗的命運時間,七個魔法大師展開戰爭,在這個脫離現實對峙的另一個世界,有一個名叫士郎的高中生。他從未想過自己能當一個偉大的魔法師。有一天他親眼看到敵對的人們互相打鬥的場面,因此被捲入這場戰爭。那時突然一個身穿鐵甲衣的少女塞芭,揚言要來保護他。這個少女就是擁有偉大歷史的英雄化身的七個使者之一,使者是這場戰爭裡,為了要幫助各自侍奉的魔法大師才被召集來的。隨著使者們戰爭的進行,士郎原本認為自己不會受到危害,也不會加害於人,可是他很快就會發現,要當一個魔法大師不是那麼簡單的。