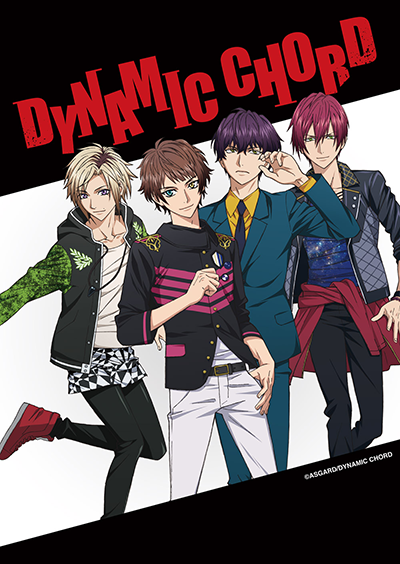 Episode / Duration
12 episodes 30 min. × 12 eps.
Director
Scenario Writer
Cast
Takuya Eguchi (江口拓也)
Kosuke Toriumi (鳥海浩輔)
Takuma Terashima (寺島拓篤)
Tetsuya Kakihara (柿原徹也)
Shotaro Morikubo (森久保祥太郎)
Kaito Ishikawa (石川界人)
Shota Aoi (蒼井翔太)
Yoshiki Nakajima (中島ヨシキ)
Ryohei Kimura (木村良平)
Yuya Hirose (広瀬裕也)

This anime adaptation of the otome game by Honeybee Black follows the professional and personal lives of four hot boy bands under the "DYNAMIC CHORD" agency and music label. There's progressive rock band rêve parfait; newcomer Liar-S; veteran rock band KYOHSO; and international sensation, apple-polisher.
---
현재 주목받는 아티스트가 소속되어있는 음악사무소겸 레 코드회사「다이나믹코드」
그 중에서도 특히 인기를 얻고 있는 4팀의 밴드가 있다.
진보적인 사운드로 독특한 세계관을 표현하는 rêveparfait.
감정적인 록사운드의 Liar-S.
압도적인 연주력이 매력적인 KYOHSO.
댄스넘버와 록을 믹스한 사운드의 apple-polisher.
16명의 밴드멤버가 다양한 만남과 이별을 경험하고 서로가 목표로한 무대를 위해 연주해가는 모습을 그렸다.
일본의 사계절을 배경으로 그들의 진실을 그린 다큐멘터리 무비가 지금 막을 연다.
---
許多受注目的歌手加入的音樂事務所兼唱片公司「DYNAMIC CHORD」。
公司裏有4支最受歡迎的樂隊。
用先鋒派音樂表現獨特的世界觀的[rêveparfait]。
情緒搖滾聲音的Liar-S。
用最高水準的演奏力吸引觀衆的KYOHSO。
演唱舞曲和搖滾混合的歌曲的apple-polisher。
16個樂隊成員,經過各種各樣的相遇和離別,演奏各自達到目標的演唱會的軌跡。
用日本的四季做背景來描畫他們的現實日子的動漫記錄片, 現在開幕。