K-ON! The MOVIE
映画 けいおん!   영화 케이온 !   電影 K-ON !輕音部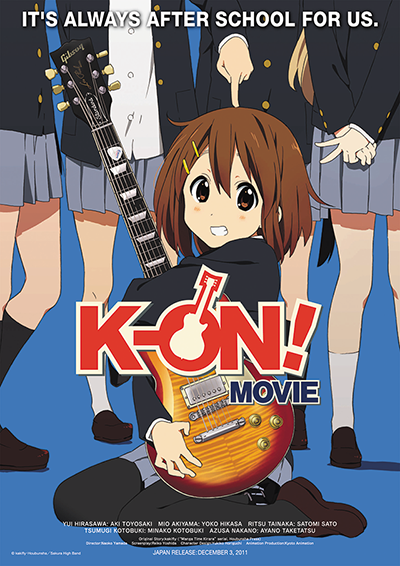 Broadcast Date
Japan Release: 2011.12.3
Episode / Duration
110 min.
Director
Scenario Writer
Cast
Aki Toyosaki (豊崎愛生)
Yoko Hikasa (日笠陽子)
Satomi Sato (佐藤聡美)
Minako Kotobuki (寿美菜子)
Ayano Taketatsu (竹達彩奈)

Four high school girls join the Light Music Club to save it from being abolished when all of its members graduate. Although most of them don't have much experience playing a musical instrument, they all decide to give it a shot. Yui, takes up the electric guitar. Ritsu plays the drums. Mio, the smart but shy one, is the base guitarist and the Gentle child of affluence, Tsumugi, plays the keyboards. In their sophomore year, the wide-eyed freshman Azusa lends her considerable guitar skills to finally form the five member band, HO-KAGO Tea Time.
Now they just need to stop having tea parties and get busy practicing!
---
고등학교1학년 봄. 경음악부「방과후 티타임」에 가입한 악기를 다뤄본 적이 없는 히라사와 유이. 부장인 다이나 카 리쓰, 부끄러움이 많은 아키야마 미오, 의젓한 고토부 키 쓰무기, 성실한 후배 나카노 아즈사. 4명은 매일 부원 실에 모여 과자를 먹으며 수다를 떤다. 그런 경음악부의 멤버들이 벌이는 평온한 클럽활동 애니메이션!
---
還是楽器初學者的平澤 唯 在高一生那年的春天,加入了「輕音部–放學後的下午茶」。在部長田井中 律、容易害羞的秋山 澪、氣質非凡的琴吹 紬和事事嚴謹的學妹中野 梓 的陪伴下,他們每天都聚集在練習室裡,啃零食聊閒話…。
這樣的輕音部成員,所展開的輕鬆社團生活動畫!