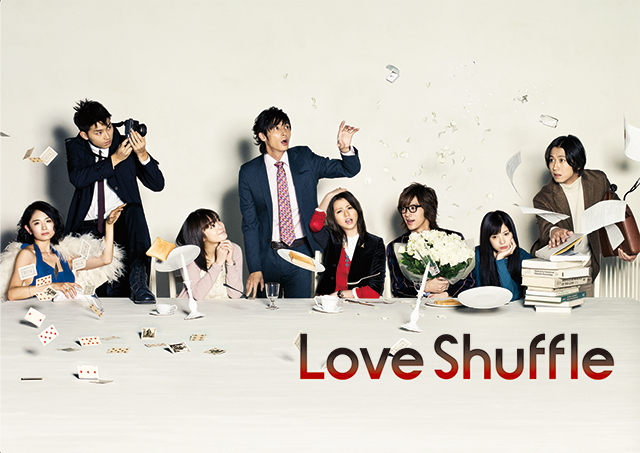 Broadcast Date
2009.1.16 - 2009.03.20
Episode / Duration
10 episodes 75 min x 1 ep / 60 min x 9 eps
Scenario Writer
Cast
Hiroshi Tamaki (玉木宏)
Karina (香里奈)
Shota Matsuda (松田翔太)
DAIGO (DAIGO)
Yuriko Yoshitaka (吉高由里子)
Hijiri Kojima (小島聖)
Shihori Kanjiya (貫地谷しほり)
Shosuke Tanihara (谷原章介)

A man and a woman living on the same floor of an upscale condominium just happen to become acquainted with one other. In order to prove the notion that "there is only one destined soul mate for every person" the pair decides to try out a "Love Shuffle/lover swapping". Eight individuals gather to play by the rule of "shuffling" partners every week. Is it love that connects them, or is it simply compatibility? Having opened the "Love Shuffle" Pandora's box, what will become of their fate?
---
고급맨션의 같은 층에 사는 남녀가 어떤 일을 계기로 가까워진다 . 「운명의 상대는 정말 단 한사람일까」 라 는 의문을 확인하기위해 "러브셔플=애인교환" 을 하게 되는데… 매주 상대를 바꿔 만난다는 규칙을 정해 모인 여덟명 . 애정 ? 궁합 ? 「러브셔플」이라는 판도라상자 를 연 이들앞에 펼쳐지는 이야기는 ?
---
住在高級公寓同一樓層的男女,在偶然的機會下結識彼此, 他們開始思考「命中注定的戀人真的只有一個嗎?」,為了解答疑問,想出了交換情人的點子。每週交換一次彼此的情人,吸引了八個人。是愛情?是緣份?像打開了潘朵拉盒子一樣的男女,會有怎樣的故事發生呢?