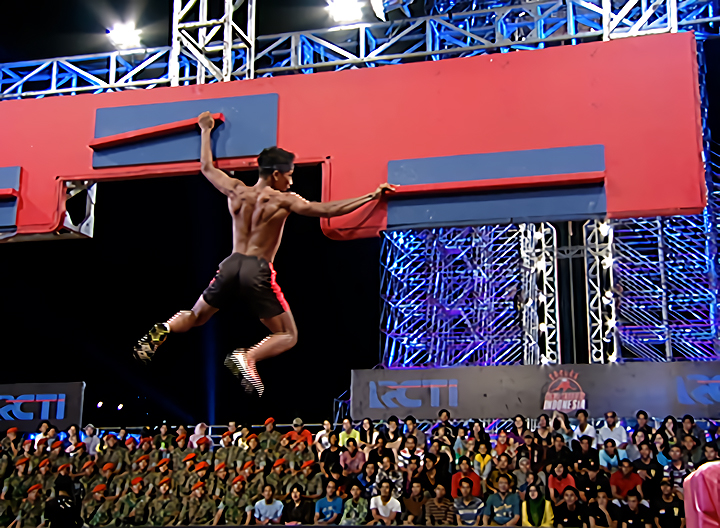 Episode / Duration
Eps 61 Series 1: 60-120 min × 25 eps
Series 2: 60-120 min × 36 eps
Only the toughest contestants who pass the tryouts are entitled to compete in the competition consisting of six stages with increasing difficulty.
In the military version 100 elite members of the Indonesian army, navy and air force challenge the obstacles to determine the strongest contestant. The Indonesian version of Sasuke is produced by RCTI, a group channel of the MNC Group.
---
아세안 10여개국 중에서도 최대의 인구를 자랑하는 아시아의 대국 인도네시아 공화국. 약2억5천명이 열광하는 대형프로그램이 2015년 12월 만반의 준비를 하여 등장했다. 『사스케』인도네시아 현지제작판『사스케 닌자워리어 인도네시아』 는 본국인 일본을 비롯해 세계적으로 대히트를 기록한 미국 현지제작판『아메리칸 닌자워리어』를 넘는 전28개장소에서 세계최대규모의 세트로 제작되었다. 제작은 인도네시아 최대 미디어기업MNC그룹의 산하에 있는 지상파RCTI이다. 동남아시아에서는 베트남에 이어 두번째의 풀스케일세트. 첫회방송시청률은RCTI가 과거 같은시간대에 기록한 최고시청률을 넘는 역사적인 고시청률이었다. 고시청률을 배경으로 인도네시아 육해공군 100명의 정예군이 모여 최강의 군인을 뽑는 추가 에피소드도 제작되었다.
---
這次節目的舞台是在ASEAN諸國當中, 以擁有最多人口而自豪的亞洲大國-印尼。讓二億五千萬人為之瘋狂的大型節目於2015年的12月正式登場!「極限體能王」印尼本地製作版「極限體能王・印尼篇」是以超越原創國日本, 以及創下世界收視紀錄的美國篇「美國忍者戰士」的世界最大規格製作的節目。本節目是由印尼最大的傳媒公司MNC集團之下的地上波公司RCTI經手製作。在東南亞來說, 是自越南篇以來的第二次大規模節目製作。本節目的收視率甚至超過了RCTI在同一時段的最高收視率, 創下了收視率的歷史新紀錄。以其高收視率為背景, 這次特別召集了印尼的陸海空三軍的精英共100人, 再從當中選出最強的軍人來製作特別篇。