SPEC~heaven~
SPEC ~天~   SPEC ~천 ( 天)   SPEC ~天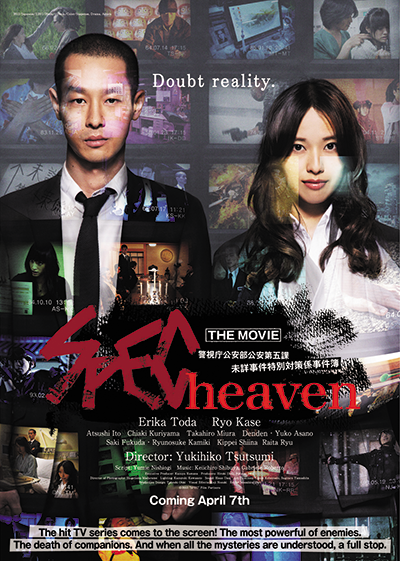 Broadcast Date
Japan Release: 2012.4.7
Episode / Duration
119 min.
Director
Scenario Writer
Cast
Erika Toda (戸田恵梨香)
Ryo Kase (加瀬亮)
Saki Fukuda (福田沙紀)
Chiaki Kuriyama (栗山千明)
Takahiro Miura (三浦貴大)
Kippei Shiina (椎名桔平)
Raita Ryu (竜雷太)

A cruiser yacht, with all aboard mummified, is discovered drifting out at sea. Toma and Sebumi suddenly face a series of spec-holders controlled by a mysterious 'Ninomae', who turns out to be Toma's younger brother...except that he's supposed to be dead. Ninomae tries to enlist Toma among the specs using whom he plans world domination, but she refuses, saying she wants to live a normal life. Cursing Toma for getting him into this, Sebumi nonetheless does his utmost to protect her. Toma's left arm is in a cast: what is she hiding there?
---
어느날 , 토우마와 세부미에게 바다에 떠있는 크루저에서 승객전원이 미이라화 된 사체로 발견되었다는 소식이 전 해진다 . 서둘러 사건해명에 임하는 두사람 앞에 스펙 홀더 ( 초능력자 ) 가 가로막는다 . 이들을 배후에서 조종하고 있 던 배후 인물은 니노마에라고 불리는 남자 , 바로 토우마의 친남동생이었다 .
죽은 동생이 어떻게 살아있지…? SPEC 을 가진 인간을 이 용하여 세계정복을 노리는 니노마에는 누나인 토우마를 한 패로 끌어들이려 하지만 인간으로서 살겠다며 토우마는 동 생의 제안을 거절한다 . 그런 토우마를 매도하면서도 온몸 을 바쳐 그녀를 지켜주는 세부미…. 깁스에 감춰진 토우마 의 왼쪽손은 과연 무엇을 의미하는 것일까 ?
---
這天當麻(Toma)和瀨文(Sebumi)接到了一樁不可解的事件; 發現了一艘漂流在海上的巡航快艇,而船上的乘客都已成了白骨化的死屍。兩人正緊鑼密鼓的準備搜查時,卻接二連三的被所謂的超能力者阻撓。進而他們意外的發現,在幕後指使這些超能力者的主腦是人稱Ninomae 的男人,而他竟是當麻的親生弟弟。已經死掉的弟弟怎麼會…? Ninomae 原本想利用這些擁有超能力的一般百姓,企圖征服世界,雖然曾經也勸誘過自己的姐姐,但當麻毅然的表示「我想過一般人過的生活」而遭到拒絕。常常看不過去而數落當麻的瀨文, 其實暗地裡拼了命在保護她…。她藏在石膏下的左手,到底意味著什麼。