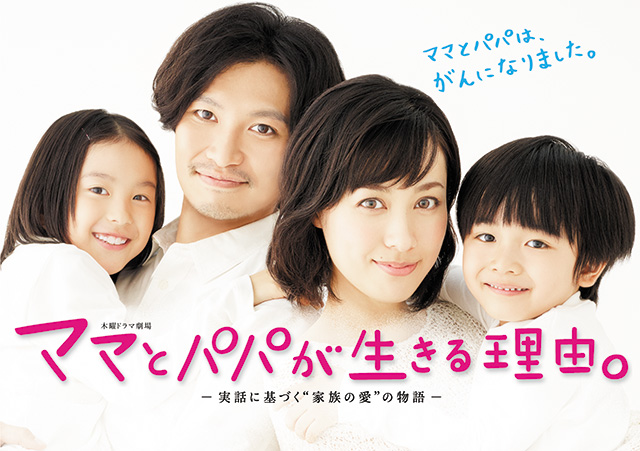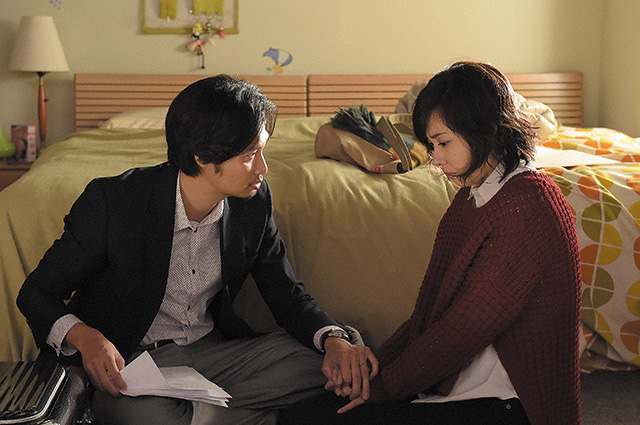 Broadcast Date
2014.11.20 - 2014.12.18
Episode / Duration
5 episodes 60 min. x 5 eps.
Scenario Writer
Cast
Kazue Fukiishi (吹石一恵)
Munetaka Aoki (青木崇高)
Konomi Watanabe (渡邉このみ)
Hinata Igarashi (五十嵐陽向)
Shigenori Yamazaki (山崎樹範)
Yoshihiko Hakamada (袴田吉彦)
Mina Fujii (藤井美菜)
Motoki Ochiai (落合モトキ)
Tetsushi Tanaka (田中哲司)
Dankan (ダンカン)

A dramatization based on a true story about a married couple both diagnosed with cancer and given limited time to live. As mother of two young children, Shuko Yoshioka notices a lump in her chest one day and goes to a hospital to have it checked out. When she is diagnosed with breast cancer, her husband Kenichi is fully prepared to battle the disease with her until he finds out that he, too is ill with lung cancer. For the sake of the children, the couple determine to not let this defeat them, but to approach life cheerfully and positively in what is a stirring and unforgettable record of a family driven by the strength of love and who never forgets their sense of humor. Based on a blog called "Husband, 39, and Wife. A Couple Given Limited Time to Live" about family and battling illness.
---
부부가 동시에 암 시한부선고를 받은 가족의 실화를 드라마화했다.
어린 두아이를 둔 요시오카 슈코는 몸에 이상을 느껴 병원을 찾고 유방암 선고를 받는다. 그런 아내를 헌신적으로 간호하던 남편 켄이치는 어느날 폐암선고를 받고 크게 동요한다. 아이들을 위해서라도 결코 병에 질 수 없다고 맹세하며 밝게 살아가는 부부. 꿈과 유머를 잃지 않는 부부의 끈끈한 가족애, 사랑과 생명을 기록한 감동의 휴먼드라마.
원작「나는 유방암, 남편은 폐암. 39살 부부의 시한부선고」는 저자 메이가 투병과 가족에 대해 쓴 블로그의 내용을 담은 것이다.
---
這是一部改編自真人真事的故事,描寫各自都被宣告癌症末期的夫婦。
有兩個孩子的吉岡柊子在某天胸口忽然感到疼痛,趕緊去醫院檢查後被告知患了乳癌。
在全力照顧妻子的途中, 也被告知罹患了肺癌的丈夫-吉岡賢一心裏受到極大的動搖。
為了孩子們,這對夫婦發誓還是要開朗樂觀地生活。懷抱著夢想,不忘了享受生活的樂趣,這是一段極度充滿家族愛和生命的記錄。
原案:我,乳癌,老公,肺癌,39歲,夫婦宣告癌症末期。的作者,依照真實主角芽生在部落格寫的關於抗癌和家人的日記裡的內容所彙整出的連續劇。