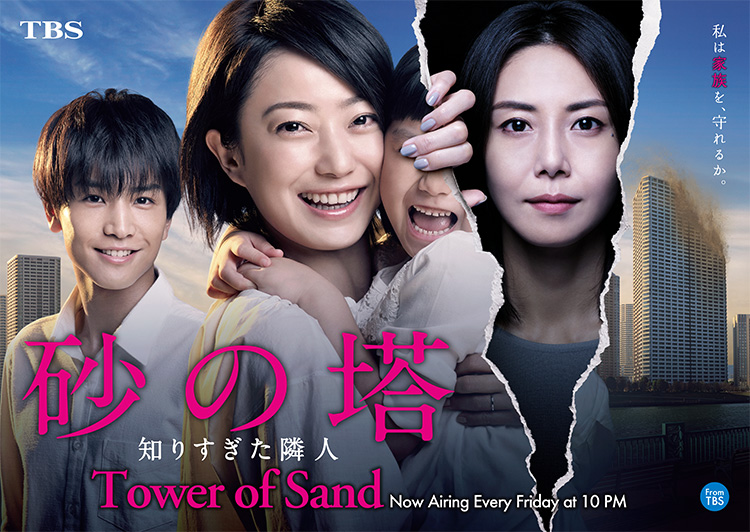 Broadcast Date
2016.10.14 - 2016.12.16
Episode / Duration
10 episodes 75 min × 1 ep / 60 min × 9 eps
Scenario Writer
Cast
Miho Kanno (菅野美穂)
Takanori Iwata (岩田剛典)
Nanako Matsushima (松嶋菜々子)
Megumi Yokoyama (横山めぐみ)
Keiko Horiuchi (堀内敬子)
Chiaki Horan (ホラン千秋)
Shuhei Uesugi (上杉柊平)
Kei Otozuki (音月桂)
Yuichi Kimura (木村祐一)
Hayato Sano (佐野勇斗)

Aki Takano is a homemaker who has built an ordinary yet amply content family life. When she and her family move into a luxurious, high-rise condo with all the latest security advancements, Aki anticipates the start of the kind of family life of which dreams are made. Until, that is, she meets her creepy and scary neighbors. Behind the walls of this ivory tower, life is a social ecosystem dictated by strict rules and decorum of vainglorious housewife residents. There are "compulsory Halloween parties", "hellishly exorbitant lunches", "floor discrimination", and even "strictly enforced proper attire for putting out the trash." Though farcical and comical at first glance, the housewives' behavior easily becomes sinister, as Aki begins to discover in unexpected ways. Someone is trying to tear her life and family apart.
Will she have be able to stand up and defend her beloved family? Is there another reason why the neighbors are targeting the Takano family?
---
평범하지만 단란한 가정을 꾸려가는 주부 다카노 아키. 호화로운 타워맨션에 갓이사한 아키의 가족에게는 최첨단 방범시스템의"꿈에 그리던 맨션생활"이 기다리고 있을 예정이었다. 그 섬뜩하고 무서운 이웃들을 만나기 전까지는….
「2층 주민은 어차피 레벨2의 인생이에요.」
높게 빛나는 탑뒤에 숨겨진 타워맨션 주부들의 격렬한 허영심. "강제 할로윈파티","지옥의 런치","플로어 차별","쓰레기를 버리러 가는데도 갖춰 입는"독특한 그녀들의 모습은 언뜻 우스꽝스럽게도 보인다. 이런 그녀들을 이웃은 교묘하게 이용하고 전혀 예상하지 못한 방법으로 아키를 궁지로 내밀고 고립시켜며 이윽고 단란했던 가정을 파괴로 몰아간다.
과연 아키는 소중한 가족을 지킬 수 있을까!? 그리고 수수께끼의 이웃이 아키의 가족을 노리는 진정한 이유는 무엇일까!?
---
主角高野亞紀雖然平凡,卻是一個有著和樂家庭的家庭主婦。甫遷至美輪美奐的高級公寓大廈,高野一家在最新保全設備保護下迎接美好新生活。沒錯…在見到詭異又可怕的鄰居前,的確如夢想般美好。
光輝燦爛的塔底,暗流洶湧的是大廈裡太太們的虛榮心:「住二樓的人,過著還不就是二流人生嘛~」
「強迫慶祝萬聖節」、「地獄的午餐時刻」、「樓層歧視」、「盛裝倒垃圾」等,樓上的鄰居巧妙利用那些難以擺平的女人們從旁看來滑稽的生態,以想破頭也猜不著的手法逼迫、孤立亞紀,進而讓她的家庭面臨崩盤離析的局面…。
究竟,亞紀是否能保護她親愛的家人?而謎樣的鄰居,針對高野家行動背後的原因又是甚麼呢!?