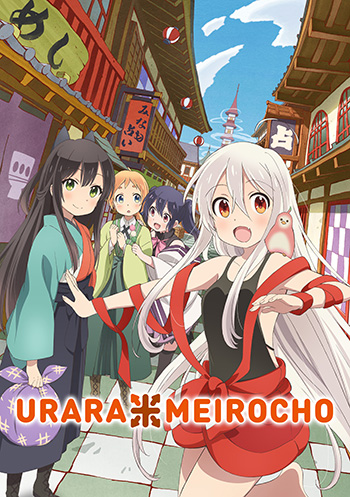 Broadcast Date
2017.1.5 - 2017.3.24
Episode / Duration
12 episodes 30 min. × 12 eps.
Director
Cast
Sayaka Harada (原田彩楓)
Kaede Hondo (本渡楓)
Yurika Kubo (久保ユリカ)
Haruka Yoshimura (佳村はるか)
Ai Kayano (茅野愛衣)
Ayaka Suwa (諏訪彩花)
Yuka Takakura (高倉有加)
Hitomi Sasaki (咲々木瞳)

Chiya was raised in the woods and most of her friends were animals. But now she needs to find her missing mother, and since it may take the skills of an Urara, or fortune teller, to find her, she's come to
the town of Meiro-cho to learn to become an Urara herself. It won't be easy adjusting… and not just
because Chiya still tends to check to see if people have tails or want their tummies rubbed! The other girls studying at the Natsumeya teahouse are all unusual in their own ways…
---
점성술의 마을, 메이로. 이곳에는 이상한 힘을 사용하여 사 람들에게 길을 제시하는「우라라」라 불리는 점술가가 모 여사는 마을이다. 이곳을 찾아온 치야는 산골에서 자라 동 물은 좋아하지만 일반상식은 없는 여자아이이다. 그런 그녀 는 곤과 고우메라는 같은 나이의 소녀를 만난다. 두사람은 치야와 마찬가지로 나쓰메야라는 점술가의 초대장을 가지 고 있었다. 두사람도 점성술을 배우기 위해 마을을 찾은 것 이었다.
낯을 가리는 나쓰메야의 여동생 노노와 함께 4명의 생활이 시작된다.
점성술의 수도 메이로마을.「우라라」를 목표로 한 소녀들 의 하루하루를 그렸다.
---
占卜小鎮、迷路町。這裡是有不可思議的力量,對人指點人生之路,被人稱『烏菈菈』的算命先生匯集的小鎮。來這裡的千矢是個在山上長大,雖受動物的喜愛但沒有普通常識的女孩子。
這樣的她遇到同歲的少女紺和小梅。紺和小梅與千矢一様, 擁有朝向棗舖這個占卦處的請帖。那不用說,都是為了學習占卦。
再加上棗舖的認生的妹妹濃濃,4個人的生活開始了。
占卜之都城的迷路帖。以『烏菈菈』作為目標的少女們的訓練生活。就在此時開幕。