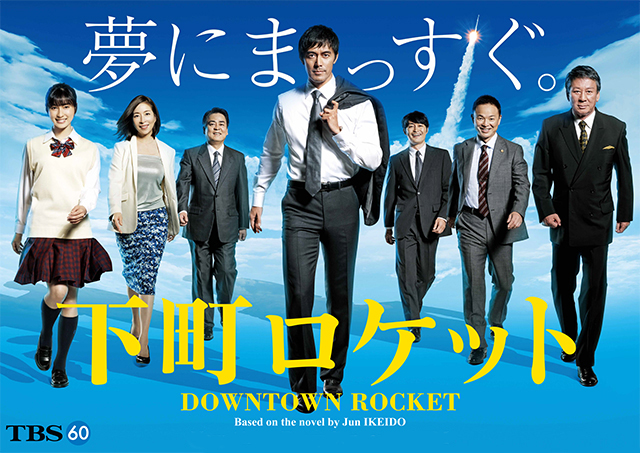 Broadcast Date
2015.10.18 - 2015.12.20
Episode / Duration
10 episodes 114 min × 1 ep / 85 min × 1 ep / 75 min × 2 eps / 60 min × 6eps
Scenario Writer
Cast
Hiroshi Abe (阿部寛)
Tao Tsuchiya (土屋太鳳)
Dansyun Tatekawa (立川談春)
Ken Yasuda (安田顕)
Soko Wada (和田聰宏)
Hiroki Konno (今野浩喜)
Ikusaburo Yamazaki (山崎育三郎)
Ken Nakamoto (中本賢)
Ayumi Tanita (谷田歩)
Tomoya Nakamura (中村倫也)

Persistence is the key ingredient to achieving a lifelong dream. As a space science researcher, Kohei Tsukuda harbors such a dream. But when his father passes away, he finds himself returning home to take over his a small engine factory located in an old part of town. As the 2nd president of Tsukuda Works, Kohei enjoys moderate success at first, but the company is too cash-strapped to let him pursue the rocket engine of his dreams. Then everything begins to fall apart. He loses his biggest customer, the banks tighten credit and a major manufacturer files a patent infringement suit of $90 million, threatening the livelihoods of his employees and the future of the company. And then one day, a major conglomerate, Teikoku Heavy Industries", learns of a valve system Kohei's company has developed and approaches him with an offer of $20 million for its rights. But will it be enough to stave off disaster and keep the dream alive?
Rocket Dreams(Title) will conjure up your purest emotions and fill you with the determination to face tomorrow.
---
永不放棄。這是實現夢想的基本。
曾是宇宙科学開発機構研究員的佃航平選擇回到父親所留下在下町的工廠,以製作小型引擎的「佃製作所」的社長, 開啓他的第二人生。開所當時成長的業績隨著研究和開發火箭引擎的經費逐漸把公司的資金逼到窮路。接著又收到主要供應商要求停止交易的消息和銀行貸款的拖延以及大型機械製造商企業控訴遭受專利權侵害並要求法律賠償的危機。就在窮途末路的員工們面臨是生是死的時刻,日本首屈一指的大企業「帝国重工」提出向佃製作所購買專利的意願。而這筆交易金額高達20億日幣。這個交易究竟對佃製作所來說是凶是吉。還是・・・?
這是一部能讓收看的觀眾, 回歸到誠實面對夢想的心情,重新拾起明日活力的溫暖劇。
---
포기하지 않는다. 그것은 꿈을 실현시키는 기본이다.
우주과학개발기구의 연구원이었던 쓰쿠다 고헤이는 아버지가 남긴 변두리 공장으로 돌아와 소형엔진을 만드는「쓰쿠다 제작소」에서 사장으로 제2의 인생을 시작한다. 예전에는 실적이 좋았던 쓰쿠다 제작소였지만 로켓엔진 연구개발비가 회사의 자금융통을 압박하게 된다. 그리고, 돌연 거래처로부터 거래중지를 당하고 은행은 대출을 미룬다. 게다가 대기업 기계회사로부터 특허침해로 90억엔의 손해배상청구까지 받게 되어 사원들은 삶과 죽음의 궁지에 몰리게 된다. 때마침 일본을 대표하는 대기업「테이코쿠중공」으로부터 쓰쿠다 제작소가 가진 밸브시스템의 특허를 20억엔에 구매하겠다는 제안을 받게 된다. 이 제안은 고헤이와 회사에게 과연 좋은 소식이 될 수 있을까? 내일을 위한 활력이 될 드라마.