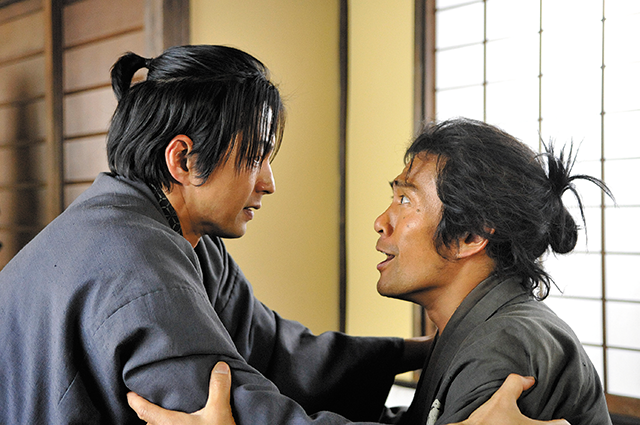 Broadcast Date
2011.4.17 - 2011.6.26
Episode / Duration
11 episodes 129 min x 1 ep / 115 min x 1 ep / 70 min x 1ep / 65 min x 2 eps / 60 min x 6 eps
Scenario Writer
Cast
Takao Osawa (大沢たかお)
Haruka Ayase (綾瀬はるか)
Miki Nakatani (中谷美紀)
Seiyo Uchino (内野聖陽)
Keisuke Koide (小出恵介)
Kenta Kiritani (桐谷健太)
Takahiro Fujimoto (藤本隆宏)
Masachika Ichimura (市村正親)
Atsuo Nakamura (中村敦夫)
Ryuta Sato (佐藤隆太)

Two years have passed since Jin slipped through a time warp and landed in the Edo period at the end of the Tokugawa shogunate's reign. Worried about the state of depression into which Saki has fallen, Jin pays a visit to her native home when it is revealed that her mother, Ei has been stricken with beriberi disease. According to her elder brother Kyotaro, Saki had come home to urge her mother to see a doctor only to be sent away without even being allowed in the home as Ei had not yet forgiven Saki for previously breaking off an arranged marriage proposal. In hopes of somehow saving Ei, Jin comes up with a scheme to administer medicine-laced sweets, for which Ei has a weakness.
---
시대를 초월해 미나카타 진이 막부의 에도시대로 타임슬립한후 2년쯤 지난 어느날.
상심한 사키의 모습이 마음에 걸려 사키의 집을 찾아간 진은 사키의 오빠 쿄타로로 부터 사키의 어머니 에이가 각기병이란 사실을 듣게된다. 어머니를 걱정한 사키가 집으로 찾아와 의사에게 진찰을 받으라 권하지만 혼담을 깬 사키를 용서할 수 없었 던 에이는 사키가 집안으로 들어서는 것도 용납않은채 그녀를 내쫓았다. 어떻게해 서든지 에이를 치료하고 싶은 진은 단음식을 좋아한다는 에이를 위해 과자를 준비 해 각기병치료를 하려고 하지만….
---
穿越時空而迷失在幕府的江戶時代已經有兩年了的「南方仁」,這一天, 因為擔心失落的「咲」來到了她老家探訪,從其兄「恭太郎」那兒得知咲的母親榮患有腳氣病。根據恭太郎的敘述,數日前咲因為擔心母親的病情而去拜訪了橘家,建議請大夫過來診斷,但由於當初咲逕自取消婚事,至今榮未能原諒咲甚至連她擅自前來腳跨橘家的門檻都無法接受,最後把她逐出了門外。無論如何,想救治榮的仁,為了偏愛甜食的榮想出了用一種甜點作成的偏方,來治療她的腳氣病,但…。