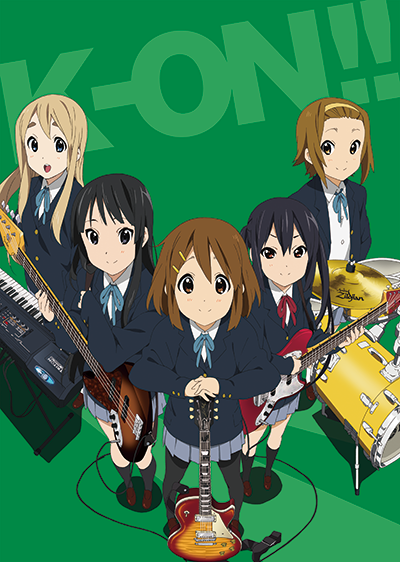 Broadcast Date
Series 1: 2009.4.2 - 2009.6.25
Series 2: 2010.4.6 - 2010.9.28
Episode / Duration
41 episodes Series.1: 30 min. x 14 eps.
Series.2: 30 min. x 27 eps.
Four high school girls join the Light Music Club to save it from being abolished when all of its members graduate. Although most of them don't have much experience playing a musical instrument, they all decide to give it a shot. Yui, who originally misread the club name and joined thinking it was something else, decides to stay and take up the electric guitar. Ritsu is the president of the club and plays the drums because they are "cool." Mio, the smart but shy one, is the base guitarist of the band. Gentle child of affluence, Tsumugi, plays the keyboards since she has experience winning piano contests. In their sophomore year, the wide-eyed freshman Azusa lends her considerable guitar skills to finally form the five member band, After School Tea Time. Now they just need to stop having tea parties and get busy practicing... as if!
---
부원전원이 졸업해버린 경음악부는 새롭게 4 명의 부원을 모으지 못하면 경음악부가 없어지게 될 상황이었다 . 신입 생 히라사와 유이는 착각으로 경음악부에 들어가게 되고 , 악보도 읽지 못하는 유이는 기타를 , 먼저 입단한 다이나카 리쓰는 드럼을 , 부끄러움을 잘 타는 아키야마 미오는 베이 스를 , 조용한 성격의 고토부키 쓰무기는 키보드를 담당하 게 된다 . 이들은 함께 합숙 , 축제 , 크리스마스등 즐거운 학교생활을 보낸다 . 2 학년이 되고 새롭게 기타를 담당하 는 나카노 아즈사를 맞이하면서 「방과후 티타임」이라는 밴드를 구성해 학교축제에서 대성공을 거둔다 . 드디어 이 들은 3 학년 봄을 맞이한다 . 「방과후 티타임」의 활약을 기대하시라 !
---
春天,新學年的開始。櫻丘高中「輕音部」,因原有的部員全部畢業離校而如果無法如期招募到至少4位新成員則即將被宣布廢部。此時,新生的平沢 唯因誤解了「輕音部」的原意而不小心加入了這社團。於是集結了,連樂譜都不會看的唯為吉他手,同樣是新生的田井中 律擔任鼓手也同時是社團的部長,膽子很小個性害羞的秋山 澪擔任貝斯手,加上氣質非凡的琴吹 紬擔任電子琴手。他們大多的時間都集合在社團的房間裡練習,為了集訓、校慶和聖誕節等表演過著充實忙碌的生活。在升上了二年級之後,更迎接了處世嚴謹的新入部員中野 梓擔任吉他手,5人樂團以「放學後的下午茶」為名在輕音部的學園祭中轟動全校深獲肯定。很快的, 是他們升上3年級的春天了...。「放學後的下午茶」會如何重組、這5個人又會怎麼成長?敬請期待 !