KOCHIKAME - THE MOVIE: Save the Kachidoki Bridge! -
こちら葛飾区亀有公園前派出所 THE MOVIE 勝どき橋を封鎖せよ!   여기는 잘나가는 파출소 THE MOVIE가쓰도키 대교를 봉쇄하라!   烏龍派出所THE MOVIE封鎖勝鬨橋!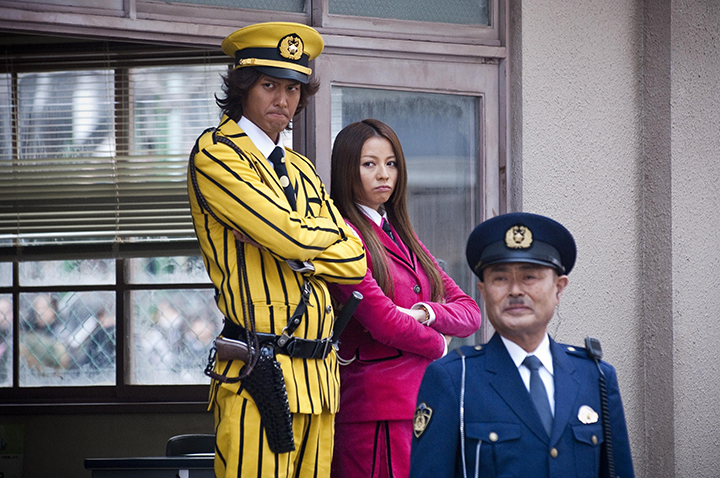 Broadcast Date
Japan Release: 2011.8.6
Episode / Duration
113 min.
Director
Scenario Writer
Yoshiko Morishita (森下佳子)
Maki Takahashi (高橋麻紀)
Masashi Sogo (十川誠志)

Cast
Shingo Katori (香取慎吾)
Karina (香里奈)
Mokomichi Hayami (速水もこみち)
Kyoko Fukada (深田恭子)
Shosuke Tanihara (谷原章介)
Ikki Sawamura (沢村一樹)
Isao Natsuyagi (夏八木勲)
Mitsuru Hirata (平田満)
Rie Shibata (柴田理恵)
Lasalle Ishii (ラサール石井)

Police Corporal Kankichi Ryotsu of the Kameari Park Police Box, Katsushika Ward, Tokyo, is the best-intentioned guy you'd ever want to meet, but nothing he does ever goes right and he causes nothing but trouble. One day Ryotsu runs into Momoko, a girl he used to like way back in primary school. His heart leaps. Suddenly the Police Commissioner's daughter is kidnapped, and Ryotsu learns that Momoko has been caught up in the case. For her sake, he sets to work solving it. But things he never expected start to happen, and he finds himself driven into a corner. Can he solve the case and save Momoko? And what will become of this bittersweet love story if he does? Ryotsu, an inveterate trouble-maker with the best intentions in the world, brings laughter and tears to the screen in a comic but moving entertainment.
---
가쓰시카구 가메아리공원앞 파출소 경장 료즈 칸키치는 호탕한 성격과 틀에 얽매이는 것을 싫어하는, 남이 하지 않았던 것을 해내는 하지만 매번 문제를 일으키는 트러블 메이커이다. 같은 파출소의 후배 아키모토 카토리누 레이 코와 나카가와 케이이치를 조마조마하게 만들고 오하라부 장의 불호령을 맞는 하루하루를 보내고 있다.
그런 어느날, 료즈는 초등학교 시절 좋아했던 모모코와 우 연히 재회하고 가슴이 두근거린다. 하지만 갑자기 경철청 장관의 손녀가 유괴되는 큰 사건이 일어나고 모모코가 이 사건에 관계가 있다는 것을 알게 된다. 료즈는 모모코를 위해 사건해결에 나선다. 그러나 사건은 의외의 전개를 보 이고 료즈는 절대절명의 위기를 맞는다. 과연 료즈는 사건 의 진상을 밝히고 모모코를 구하게 될까!? 그리고 료즈의 애절한 첫사랑의 행방은――.
---
葛飾區龜有公園前的派出所巡查長兩津堪吉,是前所未見個性豪爽、不拘常規、屬於不可思議型的搗蛋鬼。所屬同一個派出所的後輩麗子和中川圭一常被他搞的驚心膽跳,不光如此他還是每天要被上司的大原照三餐的痛罵。
就在某一天,兩津意外地遇到了小學時代暗戀的對象桃子, 當他還在心花怒放之際,發生了警察署長官的孫女被綁架一案,並且桃子也被捲入此案之中;兩津因此決定為了她親自出馬辦理此案。但是,事件意外的發展讓兩津陷入了走投無路的危機當中…。到底兩津能不能揭發事情的真相、挽救桃子呢?!還有,他苦澀的愛戀心情又會如何發展?