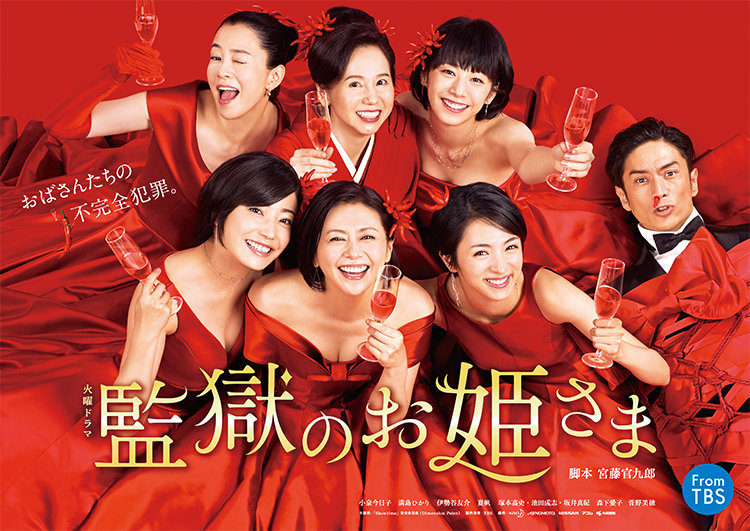 Broadcast Date
2017.10.17 - 2017.12.19
Episode / Duration
10 episodes 75 min × 1 ep / 60 min × 9 eps
Scenario Writer
Cast
Kyoko Koizumi (小泉今日子)
Hikari Mitsushima (満島ひかり)
Yusuke Iseya (伊勢谷友介)
Kaho (夏帆)
Takashi Tsukamoto (塚本高史)
Tsubaki Nekoze (猫背椿)
Otoha (乙葉)
Fuju Kamio (神尾楓珠)
Narushi Ikeda (池田成志)
Maki Sakai (坂井真紀)

Attempted murder, fraud and embezzlement, illicit drugs, tax evasion and even murder? Five women convinced of various crimes and a crime-loathing female warden put aside their differences to hatch a grand plot of revenge against a handsome but crooked company CEO. But the revenge plan keeps hitting snags. Written by Kankuro Kudo, all of these mature women with interesting back stories meet in a female penitentiary and band together to clear each other of unjust sentences in this blockbuster female crime story rich in laughter and tears, brilliantly merging the comedy and cheerfulness of Kankuro Kudo storytelling with serious deeper questions of why we're all here and what constitutes true happiness.
---
살인미수, 사기횡령, 마약사범, 탈세, 살인!? 죄를 범한 다섯명 여자들과 죄를 증오하는 한명의 여형무관. 결코 어울릴 수 없는 이들이 함께 꽃미남사장에 복수를 계획한다. 하지만, 그 복수계획은 해프닝의… 연속이다.
구도 간쿠로 극본. 여자형무소에서 만난"사연있는 여자들"이 동료의 억울한 죄를 풀 어주기 위해 펼치는 아슬아슬하고 두근거리는 웃음과 눈물의"아줌마범죄 엔터테인먼 트".「사람은 왜 사는가?」,「행복이란 무엇인가?」라는 진지한 테마를 밝고 명쾌하게 그리고 심도있게 그렸다.
---
殺人未遂,欺詐侵佔,違法藥物,脱税,殺人!?…5個女囚犯,1個憎恨犯罪的女看守──絕對不相容的兩者,協力綁架一家大企業的帥哥社長。但是復仇的計畫趕不上變化,有著各種的意外狀況發生…到底會變怎樣??
宮藤官九郎劇本,在女子監獄遇見的"有特殊原因的女人們",為了消除朋友的冤罪展開七上八下能笑能哭的"阿姨犯罪娛樂故事"。「活着的意義?」「幸福是什麼?」有趣,明亮,並且深深地問所說的認真主題。