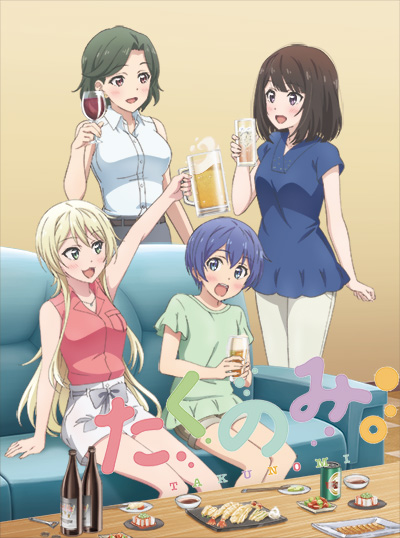 Broadcast Date
2018.1.11 -
Episode / Duration
12 episodes 15 min. × 12 eps.
Director
Cast
Ayaka Imamura (今村彩夏)
Chika Anzai (安済知佳)
Mikako Komatsu (小松未可子)
Maaya Uchida (内田真礼)

Michiru is a 20-year-old woman who just moved to Tokyo for a new job and lives in Stella House Haruno, an all-female share house. Her roommates are different ages, have distinct jobs and unique personalities but share a very important interest: their love for great food and delicious drinks!
Sometimes all you need are good friends, funny stories and a nice drink to unwind from the adult world.
---
새로운 직장을 찾기 위해 도쿄를 온 스무살 , 아마쓰키 미치루.
도쿄에 온 미치루는 여성전용 쉐어하우스 「스테라하우스 하루노」에서 살게 된다!
동거인들은 각자 일도 나이도 다르지만 맛있는 술과 요리가 있다면 언제나 즐겁다!!
함께 건배, 쌀짝 취하는 "타쿠노미" 코미디!!
---
天月滿是一位因職業調動來到東京的20歲女性。
隻身上京的她,入住只有女性的合租屋"春野公寓"!
同居人們工作和年齡都都不同樣,不過只要有好吃的酒和飯菜,毎天總是開心!!
大家乾杯吧,微醉""在家喝酒""喜劇!