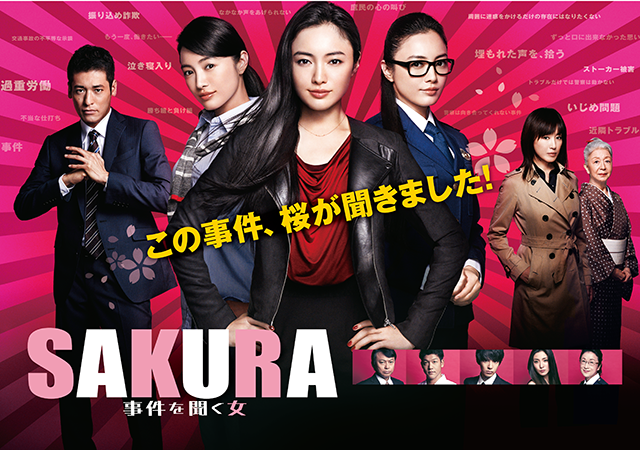 Broadcast Date
2014.10.20 - 2014.12.22
Episode / Duration
10 episodes 115 min × 1 ep / 60 min × 9 eps
Scenario Writer
Miyako Matsumoto (松本美弥子)
Junpei Yamaoka (山岡潤平)

Cast
Yukie Nakama (仲間由紀恵)
Ryuta Sato (佐藤隆太)
Kazuyuki Aijima (相島一之)
Hana Kino (木野花)
Takuro Ohno (大野拓朗)
Taro Suruga (駿河太郎)
Mirsuko Kusabue (草笛光子)
Reiko Takashima (高島礼子)

Undercover cop Sakura Mizusawa assumes many faces as she teams up with a hot-blooded detective, Masato Takeuchi, to form a crime-solving tag team with an ear for the truth.
With an uncanny ability to connect all the disparate voices she hears undercover, Sakura goes in complete pursuit of criminals, giving her undivided attention to incidents that could happen to anyone and alleviating the suffering of the weak and disadvantaged.
Join her in this fun and raucous old school police story that promises a tearfully moving finish and plenty of lessons about right and wrong. Great for the whole family, young and old!
---
다양한 얼굴을 가진 극비잠입수사관 미즈사와 사쿠라와 열혈형사 다케우치 마사토가 한팀이 되어 사건의 진상을 파헤친다!
잠입수사에서 손에 넣은 갖가지 정보를 막힘없이 나열해 사쿠라는 완벽하리만치 범인과의 거리를 좁혀간다. 누구에게나 일어날 만한 사건에 약자를 고통속에서 해방시키는 사쿠라의 모습을 통쾌하게 그렸다. 눈물과 감동의 라스트! 온가족이 즐길 수 있는 권선징악의 정통파 경찰드라마.
---
擁有各式各樣的面貌的高度機密潛入搜查官-水澤櫻和熱血刑警竹內正人。這對絕佳拍檔將一一查出事件的真相!
在潛入搜查時,櫻總是能將每個詢察一一清楚地整理,在完美的搜查到犯人為止絕對不放棄。讓我們痛快地觀看搜查官水澤櫻是如何解決即使發生在我們身旁也不奇怪的事件,保護弱者伸張正義打擊壞人。這是一部老少咸宜,感動收尾的勸善懲惡的經典警察劇。