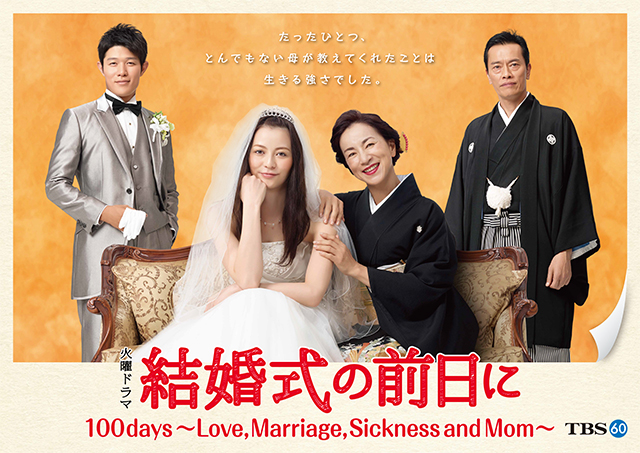 Broadcast Date
2015.10.13 - 2015.12.15
Episode / Duration
10 episodes 75 min × 1 ep / 60 min × 9 eps
Scenario Writer
Yukiko Yamamuro (山室有紀子)
Maki Takahashi (高橋麻紀)
Ureha Shimada (嶋田うれ葉)

Cast
Karina (香里奈)
Mieko Harada (原田美枝子)
Ryohei Suzuki (鈴木亮平)
Yusuke Yamamoto (山本裕典)
Erina Mano (真野恵里菜)
Yumiko Fujita (藤田弓子)
Yukijiro Hotaru (螢雪次朗)
Toshihiro Yashiba (矢柴俊博)
Yuta Nakano (中野裕太)
Atsuhiro Inukai (犬飼貴丈)

Hitomi Serizawa leads a fulfilling professional and private life. What's more, she will be getting married in 100 days. Plans are progressing smoothly until the unexpected appearance of her mother after an absence of 25 years. A free-spirited woman who lives impulsively and abandoned Hitomi to her stepfather, the mother, Kanako has suddenly decided to re-enter her daughter's life in time to bask in the attention and respect given to the mother of a bride. Naturally, Hitomi is incensed and galled by the idea. But Hitomi soon finds out that her mother knows her intimately, for she has been corresponding with her mother all her life, believing her to be a childhood friend who moved away. As a result, Kanako knows all of HItomi's closest-kept secrets, her innermost thoughts, everything about her upcoming marriage and even… that she was recently diagnosed with a life-threatening brain tumor that may ruin plans for the wedding. Hitomi makes every effort to resist her mother's unsolicited intrusion into her life, but blood is thicker than water. And so begins the 100-day battle between a mother and daughter. Can it end well?
---
主角-芹沢瞳在事業上和私生活都很充實的每一天裏迎接100天後的結婚典禮。在此刻,出現在她面前是25年前離開的母親加奈子。加奈子自由的個性讓她為了自己的夢想而出國,現在則是希望獲得女兒的尊敬而又返國。對於25年後忽然若無其事出現的母親,瞳感到極度的憤怒。但是,瞳後來發現,自己25年來一直打開心房傾訴的筆友,居然是母親本人。從瞳的初戀到如今的結婚對象,甚至是被醫生宣告罹患了危及性命腦瘤的事實,母親都知道。瞳持續對抗自由獨立的母親, 在這100天裏的母女大戰即將開始。
---
세리자와 히토미는 일과 사생활 모두 만족스런 일상을 보내며 100일후에는 결혼식을 앞두고 있다. 그런 그녀 앞에 어느날, 25년전 집을 떠난 엄마 카나코가 나타난다. 엄마는 자신의 꿈을 위해 일본을 떠난 그야말로 자유인이었다. 반갑게 자신을 맞아주리라 설레는 엄마와는 달리 25년간의 세월이 마치 없었던듯 나타난 엄마의 모습에 화가 난 히토미. 하지만, 엄마는 히토미의 비밀을 알고 있었다.
25년간 히토미가 자신의 속마음을 털어놓은 펜팔친구가 바로 엄마였는데! 히토미의 첫사랑부터 지금의 결혼상대, 그리고 이대로라면 생명이 위험할것이라는 의사의 뇌종양 진단내용까지 모든것을 엄마는 알고 있었다. 자신의 꿈을 이루겠노라 포부를 말하는 엄마를 비난하는 히토미. 딸과 엄마의 100일간에 이르는 전쟁이 시작된다.