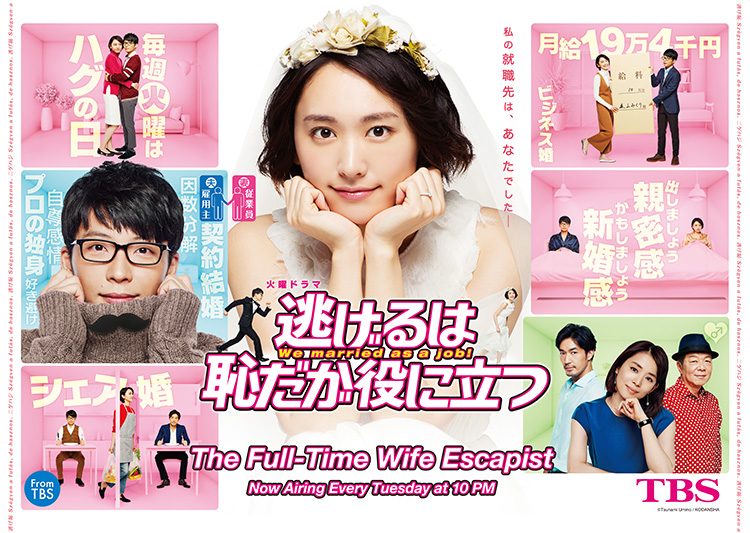 Broadcast Date
2016.10.11 - 2016.12.20
Episode / Duration
11 episodes 75 min × 3 eps / 60 min × 8 eps
Scenario Writer
Cast
Yui Aragaki (新垣結衣)
Gen Hoshino (星野源)
Moro Morooka (モロ師岡)
Hitomi Takahashi (高橋ひとみ)
Takashi Ukaji (宇梶剛士)
Yasuko Tomita (富田靖子)
Arata Furuta (古田新太)
Yuriko Ishida (石田ゆり子)
Ryohei Otani (大谷亮平)
Takashi Fujii (藤井隆)

Mikuri is a young woman with a graduate degree. But when no offers of employment come her way, she's forced into taking on temp work and confronting "the painful realization that nobody needs her." That's when Mikuri lands a job as a professional homemaker for a strait-laced bachelor named Hiramasa. Mikuri's perfectionist work ethic wins over Hiramasa's complete trust, but unfortunate circumstances result in the loss of this job, too. Feeling anxious about the future, Mikuri makes Hiramasa a strange offer. "Would you consider employing me through marriage?" He agrees, and a nuptial agreement is signed, making the two legally betrothed in a somewhat falsified life as husband/employer and wife/employee.
Can the couple function in a strictly professional relationship like this without the truth becoming known? Is there any chance of a chemical reaction between a pure company man and a dreamer woman thrown together for mere convenience?
---
모리야마 미쿠리. 남친없음, 대학원 졸업이지만 아직 백수다. 파견사원이 되지만 계약 완료, 그리고 지금은 구직중이다.「그 누구에게도 필요로 하지 않는 괴로움」을 느끼며 생활한다. 그런 미쿠리를 보다 못한 아버지의 주선으로 독신 회사원 쓰자키 히라마사의 가사도우미로 일하게 되었다. 배려심 깊은 일솜씨에 쓰자키의 신뢰를 받는 미쿠리. 하지만 어떤 일을 계기로 그 일마저도 그만두게 될 상황에 처한다. 미래에 대한 불안에 내몰린 미쿠리는 엉뚱한 대화중에 쓰자키에게「취직이라는 의미로 결혼을 하는것은 어떤가요?」라고 제안을 한다.
성실한 쓰자키는 고민끝에 사실혼으로서의 계약결혼을 제안하게 되고 두사람은 주위에는 비밀로 「고용주=남편」,「종업원=아내」로 결혼을 하게 되는데….
두사람은 주위에 들키지 않고 신혼생활을 보낼 수 있을까!? 연애감정은 없을 터인데, 한지붕아래 조금씩 서로를 의식하는 망상여자와 숫총각. 과연 계약결혼의 행방은!?
---
女主角森山美久羅,沒有男朋友、碩士畢業找不到正職工作、當了派遣員工又不被續聘而正在求職中。日復一日,不被任何人需要的生活讓她難過得不得了。父親看不過去,幫她找了一份管家的工作,雇主津崎平匡是未婚單身的上班族。美久羅到位的服務,很快贏得津崎的信賴。不料,一個小意外害美久羅飯碗差點不保。正當她對未來感到徬徨不安,迫於窮途末路時,突如其來的對話有了超展開!美久羅居然脫口問津崎:「要不要來結婚,就當給我一個工作吧?」
性格認真過頭的津崎還當真考慮,提議以不登記但同居的事實婚來締結契約型婚姻。雙方決定對外保密,開始了「雇主=老公」、「職員=老婆」的結婚生活。
他們的新婚生活是否能順利瞞過週遭?照道理契約本不附帶愛情,但孤男寡女共處一室,狂想女和木頭男漸漸對彼此有了不同感覺。接下來,這個契約型婚姻要如何進行下去呢…!?