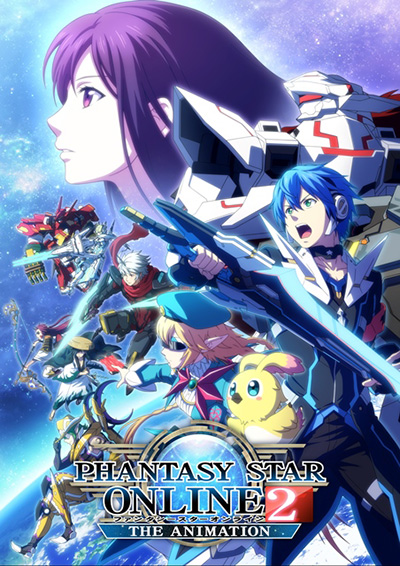 Broadcast Date
2016.1.7 - 2016.3.31
Episode / Duration
12 episodes 30 min. × 12 eps.
Director
Scenario Writer
Cast
Shouta Aoi (蒼井翔太)
Ayaka Suwa (諏訪彩花)
M.A.O (M.A.O)
Nobunaga Shimazaki (島﨑信長)
Takuya Sato (佐藤拓也)
Rie Murakawa (村川梨衣)
Aki Kanada (金田アキ)
Shun Horie (堀江瞬)
Minami Kabayama (樺山ミナミ)
Tessho Genda (玄田哲章)

Based on the hit MMORPG, this action-adventure series follows Itsuki Tachibana, a player of Phantasy Star Online 2, and the challenges he faces both in and outside of the game.
---
서기 2027년.
타치바나 이쓰키가 다니는「세이가학교」는 도심에서 조금벗어난 교외에 있는 남녀고등학교.
문무에 뛰어난 인재양성을 목적으로 한 전교생 기숙사제도의 진학고이다.
2학기가 시작되고 이쓰키는 학교내의 선망의 대상인 학교회장 이즈미 리나로부터 호출을 받고 학생회장실로 불려가게 되는데….
---
時為西元2027年-
橘伊月上的學校「清雅学園」是一所位於郊外的男女混合高中。
清雅學園為了培養文武雙全的人才而採用全住宿制度。
就在下半學期開始之際,伊月忽然被全校學生所愛慕的學生會長泉澄莉娜叫到學生會長室裡…