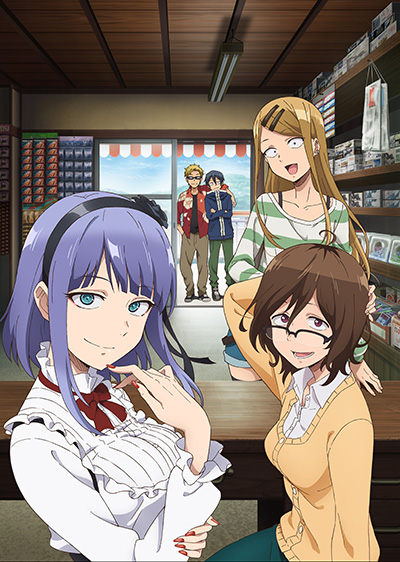 Broadcast Date
2018.1.11 -
Episode / Duration
12 episodes 15 min. × 12 eps.
Director
Cast
Ayana Taketatsu (竹達彩奈)
Atsushi Abe (阿部敦)
Manami Numakura (沼倉愛美)
Tatsuhisa Suzuki (鈴木達央)
Chinatsu Akazaki (赤﨑千夏)
Tomokazu Sugita (杉田智和)
Keiji Fujiwara (藤原啓治)

The queen of succulent snacks is back with Dagashi Kashi season two! As Kokonotsu continues on his path to become a manga artist, Hotaru refuses to give up on bringing him to the side of Japanese snack foods. With new faces and new tasty treats to try, will Kokonotsu finally be swayed to take over his father's sweet shop or is it time to move on from this small town and follow his manga dreams?
---
가업인 다가시가게를 잇기 싫은 시카타 코코노쓰와 다가시 매니어인 수수께기 미소녀 ・ 호타루. 코코노쓰가 다가시가게를 이어 갈 수 있도록 호타루는 가끔 가게를 들르게 된다.
호타루와 함께 지내는 코코노쓰는 순조롭게 다가시가게 점장이 되어가는듯・・・ 보이고, 친구 엔도 토우 ・엔도 사야와 함께 즐거운 여름방학이 이어진다!? 맛있고 그리운 다가시 코미디!다시 한 번 배부르게 드시라!!!
---
不願繼承家業粗點心店的鹿田九,與熱愛粗點心的不可思議美少女·螢。螢為了讓九繼承粗點心店,而開始屢次造訪店中。與螢一同度過的九順利地前進在成為粗點心店長的道路上……是不是這樣還不清楚,不過與友人遠藤豆、遠藤彩一同度過的愉快的暑假仍將繼續!? 獻上實際存在的粗點心作為禮物讓大家看,這是美味而令人懷念的粗點心喜劇!請再一次地盡情享用到飽!!