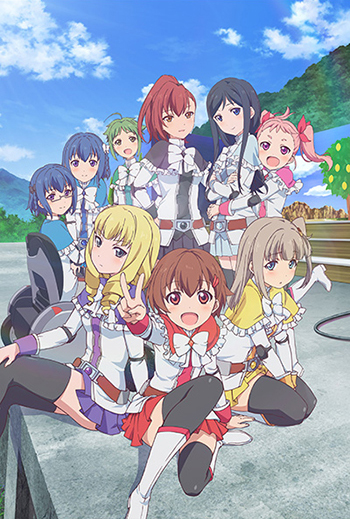 Broadcast Date
2017.7.6 -
Episode / Duration
12 episodes 30 min. × 12 eps.
Director
Cast
M.A.O (M.A.O)
Miku Ito (伊藤美来)
Rie Murakawa (村川梨衣)
Erii Yamazaki (山崎エリイ)
Yuuki Hirose (広瀬ゆうき)
Haruka Ishida (石田晴香)
Moe Toyota (豊田萌絵)
Haruka Shiraishi (白石晴香)
Mai Fuchigami (渕上舞)
Bridcutt Sarah Emi (ブリドカットセーラ恵美)

What starts as a project for a small-town festival gains traction when local heroines begin getting scouted for popular TV programs. At the urging of her aunt, a prefectural governor in Hinano City, high school senior Misaki Shirogane signs up to become a "heroine fighter" for her area - but everything changes when she realizes that a local superhero show might be the way to rescue their town from serious financial jeopardy! But can they recruit all the girls and resources needed in the short time before the bills come due?
---
어느 도시의 "지방 히로인전사" 가 인기를 끌면서 전국적인 스타가 되었다.
이를 계기로 각지역에서는 "지방히로인" 이 탄생하고 특히 인기가 높은 "히로인" 의 액션라이브는 국민적인 인기콘텐 츠가 된다.
과일산지인「히나노시」는 이 유행에 뒤떨어지고 있었다.
마을을 사랑하는 여고생 시로가네 미사키는 위기감을 느끼 고 현지사인 숙모를 부추켜 히나노시의 액션라이브극단의 프로듀스를 결심한다.
---
某個地方都市所企劃的"當地女英雄戰士"獲得極大人氣, 成為了全國的明星。以這個為契機,各地"當地女英雄戰士" 誕生,"女英雄"們的動作演出表演會特別獲得極大人氣, 成為了國民最受歡迎的節目。
但水果產地地方都市"陽菜野市"沒能及時趕上這波潮流。
極愛家郷的高中生、城葛根御前,被對此感到危機感、擔任縣知事的叔母吹動,決心展開陽菜野市動作演出劇團的製作!