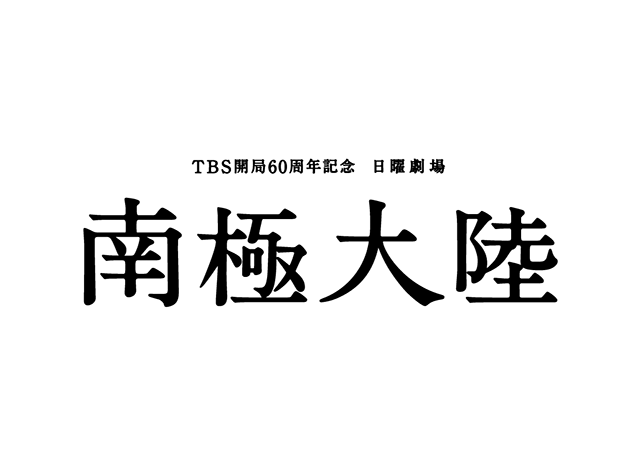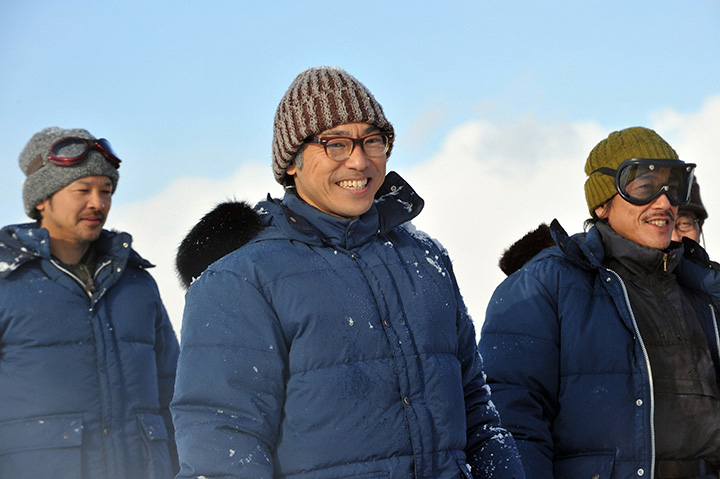 Broadcast Date
2011.10.16 - 2011.12.18
Episode / Duration
10 episodes 130 min x 1 ep / 90 min x 1 ep / 70 min x 4 eps / 60 min x 4 eps
Scenario Writer
Cast
Takuya Kimura (木村拓哉)
Haruka Ayase (綾瀬はるか)
Masato Sakai (堺雅人)
Yusuke Yamamoto (山本裕典)
Hisashi Yoshizawa (吉沢悠)
Yoshinori Okada (岡田義徳)
Kotaro Shiga (志賀廣太郎)
Yosuke Kawamura (川村陽介)
Dronz-Ishimoto (ドロンズ石本)
Kyohei Shibata (柴田恭平)

It is the Showa 30s - the mid-1950s to mid-1960s - and a full decade has passed since Japan's devastating defeat in World War II. The people are hard at work rebuilding their tattered lives and country seeking to regain their confidence in the process. Meanwhile, and the victor nations from the war are all eager to explore the planet's last frontier - Antarctica; with teams of scientists from the U.S. Soviet Union and other countries racing to divvy up the vast frozen continent of Antarctica. Japan is the only Asian nation eager to declare a desire to take part, despite global skepticism about what Japan as could possibly contribute in its current state. As a result, Japan is allotted a virtually "inaccessible region" of Antarctica to study, where temperatures plunge to minus 50 degrees centigrade and blizzard winds whip up to 100 meters an hour. Nobody expects them contingent to succeed.
"Now is precisely the time when we must show the world our true mettle and determination," says the Japanese Antarctic exploration team. "We have to prove that we can stand on our own two feet."
The mission soon becomes synonymous with Japan's return to the global community. But the unforgiving continent is not about to yield its pristine, never-before-touched-by-man territory easily. With such seemingly insurmountable challenges, the wintering team draws inspiration, hope and motivation from none other than its 19 Karafuto dogs. This is a story about one young scientist who risks his life in Antarctica for his loved ones, his country's honor and for his "comrades in arms", the dogs with whom he forges true bonds of kinship and shared destiny.
---
1950년대 중반, 전후 10년이 지난 일본. 잃어버린 자신감을 되찾기 위해 사람들은 묵묵히 일하며 경제를 되살리려 노력중이다. 그 무렵 세계 각국에서는 지구관측이 한창 활발하게 진행되고 있었다. 미국, 소련 등 승전국을 중심으로 미지의 대륙, '남극' 관측이 계획되었다. 아시아에서 유일하게 참가를 표명한 일본이었지만 패전국인 일본이 무엇을 할 수 있겠냐며 매도를 당하고, 그렇게 일본에게 주어진 관측장소는 Inaccessible 즉, 접근불가능한 장소였다. 영하 50도, 풍속 100미터의 남극의 폭설이 몰아치는 최악의 장소. 아무도 일본을 기대하지 않았다. 일본의 남극 관측은 국제사회 복귀로의 일대 프로젝트가 되었다. 하지만, 사람의 발길이 닿지 않았던 남극은 남극월동대를 혹독하게 맞이한다. 그런 월동대 의 마음의 버팀목이 되어준것이 19마리의 개들이었다. 이 드라마는 일본의 부활을 위한 문을 열기 위해 그리고, 사랑하는 사람을 가슴에 담고 남극대륙에서 목숨을 걸고 도전한 젊은 학자와 그와 운명을 함께한 개(시베리아 허스키)들의 사랑과 감동을 그린 드라마이다.
---
故事是發生在昭和30年代。大概是在戰後的10年左右,日本為了奪回失去的自信,人們不顧一切辛勤工作為了能夠重振經濟。也在當時,世界各國對於觀測地球的研究非常活躍。以戰勝國的美國和蘇聯為中心,計劃在未知的大陸「南極」進行觀測。作為亞洲國家當中唯一參加計劃的日本,承受了世界輿論的怒罵和批評。質疑「戰敗國日本」能有什麼貢獻,於是被分配到地圖上被標示"Inaccessable 無法靠近"的觀測地點…。那是零下50度,吹着時速100米暴風雪的惡劣環境,完全不被世人所看好。「我們更應該在這個時候表現日本人的實力。日本不靠別的國家,我們要用自己的力量生存下去,更要把這個姿態讓全世界都看到。」就這樣日本的南極觀測隊成了「回歸國際社會的第一大任務」。但是,無人踏過的大陸對於南極越冬隊一點也不寬厚和憐愛。唯一給予越冬隊心靈上最大支持的是那19隻的樺太狗…。這個故事是敘述一位為了開啓日本復興的大門,放棄私情冒著生命的危險挑戰南極大陸的年輕學者,以及那些與他共生死患難的樺太狗,所記錄下來的愛和情誼。