Beyond the Boundary-I'LL BE HERE- Past
境界の彼方-I'LL BE HERE-過去編   경계의 저편 I'LL BE HERE 과거편   《境界的彼方》(I'll be here 過去編)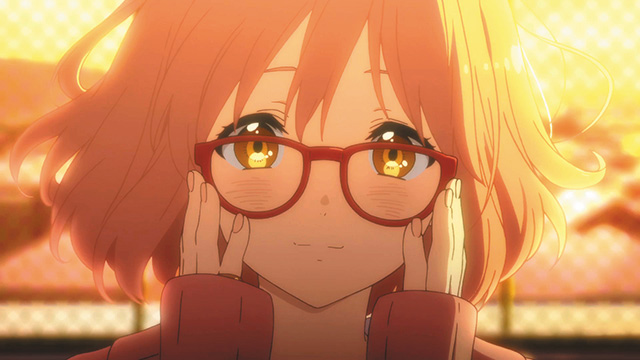 Broadcast Date
Japan Release: 2015.3.14
Episode / Duration
89 min.
Director
Scenario Writer
Cast
Risa Taneda (種田梨沙)
KENN (KENN)
Minori Chihara (茅原実里)
Tatsuhisa Suzuki (鈴木達央)
Yuri Yamaoka (山岡ゆり)
Moe Toyota (豊田萌絵)
Ayako Kawasumi (川澄綾子)
Masaya Matsukaze (松風雅也)
Akeno Watanabe (渡辺明乃)
Naomi Shindo (進藤尚美)

It all began quite suddenly. Akihito, who appears human but is actually half yomu with the power to quickly heal himself, sees a freshman girl who appears ready to jump from the school rooftop. The girl, Mirai, who has the ability to manipulate blood, which is unique even among members of the spirit world, continues to fight her isolation. Akihito decides at that moment to save Mirai, but disturbing events soon begin to unfold.
---
경계의 저편 I'LL BE HERE 과거편
인간과 인간과는 상반되는 존재인「요무」와의 사이에서 태어난 소년 간바라 아키토. 어느날 그는 학교 옥상에서 당장에라도 뛰어내릴것만 같은 소녀, 구리야마 미라이를 만난다. 미라이는 인간을 해치는 요무과 싸우기 위해 특수한 능력을 가진 「이계사」였다. 이계사 세계안에서도 특이한 그녀의 능력은 이단아로 취급받아 미라이는 고독했다.「나는 평범한 사람으로 보이나요?」
소녀와 그녀에게 자신의 고독을 비춰보는 소년이 만들어 내는 다크판타지.
---
《境界的彼方》(I'll be here 過去編)半人半妖夢的少年- 神原秋人某天在高中屋頂遇見了隨時要跳樓的的少女-栗山未來。未來是專門除掉對人間有害的妖夢的"異界士"。在"異界士"的世界裡,她也是少數擁有特殊能力的。在自己的特殊能力和戰鬥夢妖之間感到孤獨的未來和半人半妖的神原同病相憐,"我,看起來像普通的人類嗎?"不安的未來問了神原,相同的孤獨感重疊並交織出情感的兩人將劃出怎麼樣的暗黑冒險史呢?敬請期待。