SPEC~Close~incarnation / SPEC~Close~reincarnation
劇場版SPEC ~結(クローズ)~漸(ゼン)ノ篇/爻(コウ)ノ篇   SPEC ~완결~   SPEC~Close~ (SPEC~結~)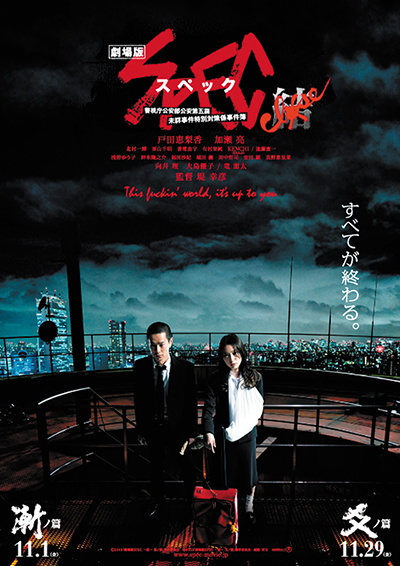 Broadcast Date
Japan Release : 2013.11.1 / 2013.11.29
Episode / Duration
incarnation: 94 min.
reincarnation: 91 min.
Director
Scenario Writer
Cast
Erika Toda (戸田恵梨香)
Ryo Kase (加瀬亮)
Kazuki Kitamura (北村一輝)
Chiaki Kuriyama (栗山千明)
Koki Okada (岡田浩暉)
Kazuyuki Matsuzawa (松澤一之)
Ryuji Sainei (載寧龍二)
Kasumi Arimura (有村架純)
Ryunosuke Kamiki (神木隆之介)
Saki Fukuda (福田沙紀)

The much-anticipated sequel to the SPEC series, Close comes to theaters in two parts, "incarnation" and "reincarnation" and promises to deliver an ultimate conclusion to the franchise and all SPEC holders who have appeared, both new and old. The world is divided into those who possess SPEC, and those who do not. The world is beginning to waver, and a period is about to be placed on the history of mankind. A simple plan. Fatima's 3rd prophecy. Solomon's key. All mysteries hitherto unsolved will be revealed! What fate awaits Toma and Sebumi and the whole human race here at the beginning of the end?
---
「SPEC」시리즈 대망의 완결편이며 전편과 후편의 2부작으로 구성되어 있다.
스펙홀더 총출연으로 선사하는 최고의 결말.

인류의 중추를 담당하는 권력자들이 SPEC 보유자들을 멸종시키기 위해 '심플 플랜'을
실행하려 했다. 이에 맞서 니노마에가 조직한 SPEC 홀더들은 인류와의 패권 다툼에 나서고,
파티마 제3의 예언대로 'SPEC을 가진 자'와 '가지지 못한 자'의 인종 간 전쟁이 시작된다.
싸움으로 인해 동료들이 상처를 입는 가운데, 니노마에의 누나인 토우마는 SPEC 홀더와
인류 사이에서 고뇌하고, 폭주하는 자신의 SPEC에 사로잡혀 있었다. 그래도 세부미와 함께
형사로서의 본연의 모습을 향해 나아간다.
---
SPEC 系列在眾所期待下出了完結篇的「結 (Close)」,將分成前傳( 漸之篇) 和後傳( 爻之篇) 連續公開。結合新舊版裡出現的SPEC 持有者的大集合帶來終極的結尾。世界在擁有SPEC 能力和沒有的人之間開始變動,現人類的歷史正面臨被打上休止符的宿命。SIMPLE PLAN 簡單計畫中的聖母法蒂瑪的第三預言- 索羅門之鑰等,這些未解開的謎底即將被揭曉。「當麻」和「瀬文」及所有人類的命運會如何? 那是世界末日的開幕。