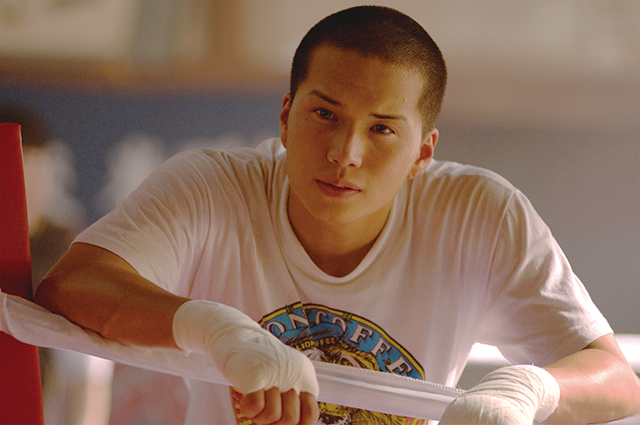 Broadcast Date
Japan Release: 2010.5.22
Episode / Duration
126 min.
Director
Scenario Writer
Cast
Hayato Ichihara (市原隼人)
Kengo Kora (高良健吾)
Mitsuki Tanimura (谷村美月)
Yuu Kashii (香椎由宇)
Toshio Kakei (筧利夫)

Timid honor student Yuki joins Ebisu High School's boxing club, aspiring to the raw power of his childhood friend Kabu, who's a bad boy boxing prodigy. Despite Kabu's laziness, he racks up a string of winning bouts through his natural talent for the sport. He may not listen to what anyone says, but he's willing to give it his all for the people close to him, including his coach. Bullied as a child, Yuki applies his no-nonsense character to training day in and day out through a sheer desire to become stronger, also gaining support from best friend Kabu. Under the coach's guidance, Yuki gradually builds strength, moving one step closer to undefeated high school rookie Kabu. Fate leads the two friends to become rivals... Fighting until the end, for a friend. What lies ahead for Kabu and Yuki?...
---
어릴적부터 친구인 개구쟁이 천재복서 카부의 파워를 동경하며 약골인 우등생 유키는 에 비스고교의 복싱부에 입단한다 . 타고난 복싱센스를 가진 카부는 시합에서도 단번에 연전 연승을 이룬다 . 게으르고 다른 사람의 말은 안중에도 없는 카부이지만 선배를 위해서는 몸을 아끼지 않는 일면도 있다 . 이지매를 당하던 유키는 친구인 카부의 도움을 받으면서 점점 강해지겠다는 일념하에 성실히 연습에 임한다 . 복싱부코치의 지도로 점차 강해지는 유키 . 고교복싱계에 일인자로 알려진 카부와 견줄만큼 성장해 나간다 . 드디어 두사람은 운명의 라이벌 관계가 되는데… 친구를 위해 내뻗은 주먹 , 그 앞에 두사람이 본것은….
---
體弱多病但成績優秀的Yuki,因為憧憬自己的青梅竹馬、調皮搗蛋卻是天才拳擊手的 Kabu,於是決定加入惠美須高中的拳擊部。性格雖然懶散但與生俱來拳擊天份的Kabu 在比賽中連戰連勝。他弔兒郎當的性格卻非常講義氣,常為朋友兩肋插刀。就在這位好友Kabu 的幫助下,曾經是常被同學欺負的軟腳蝦Yuki 下定決心秉持著他的信念和一向認真的精神開始了日以繼夜的鍛鍊計畫。加上有拳擊部教練的指導下,日漸強壯的Yuki 已經一步一步靠近號稱「高中拳擊界的無敵手」Kabu 越來越近了。終於, 兩個人成為了命運交戰的對手。為了自己的摯友所揮出的每一拳,兩個人看到的是...