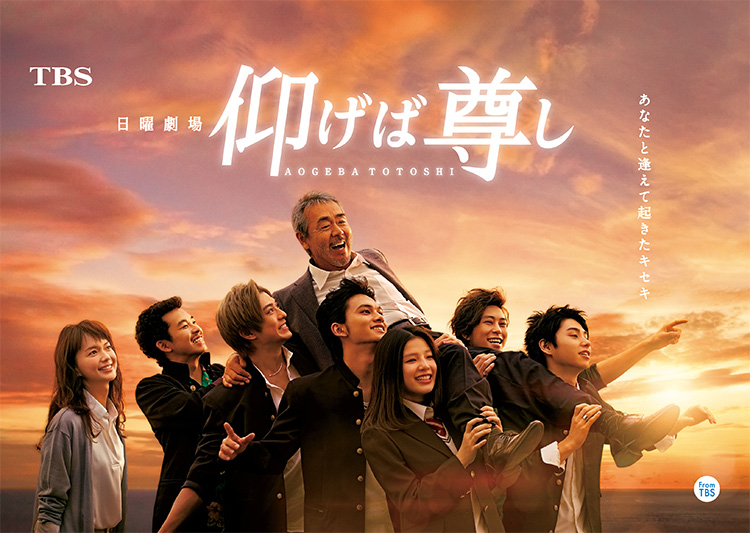 Broadcast Date
2016.7.17 - 2016.9.11
Episode / Duration
8 episodes 85 min × 1 ep / 75 min × 1 ep / 60 min × 6 eps
Scenario Writer
Yoshihiro Izumi (いずみ吉紘)
Masaaki Sakai (酒井雅秋)

Cast
Akira Terao (寺尾聰)
Mikako Tabe (多部未華子)
MACKENYU (真剣佑)
Nijiro Murakami (村上虹郎)
Anna Ishii (石井杏奈)
Takumi Kitamura (北村匠海)
Taiga (太賀)
Gaku Sano (佐野岳)
Yuma Yamoto (矢本悠馬)
Kentaro (健太郎)

It is called "The Musical Koshien", the All-Japan Wind & Brass Band High School Championship. Regional rounds begin across the country every July, gradually narrowing a field of over 3,000 high school bands to just about a dozen for the finals. Amid the event's long history, one public school is legendary for having risen from complete anonymity to national champion. In 1983, Kanagawa Prefectural Noba High School was a rough and tumble, low-rated school with a music room littered with cigarette butts and an inactive brass band club made up of hopeless slackers. But in the short span of 2 years, one man turned them around and made them national heroes. Based on a true story about a teacher named Nakazawa who spent 10 years guiding students to glory while battling cancer, this inspiring drama depicts two years in the life of a broken down musician (Koichi Hikuma), searching for meaning after suffering an accident that forced him out of a musical career, and the turnaround he orchestrates for himself and for the lives of his problematic students.
---
아마추어 브라스밴드가 겨루는 일본에서 가장 큰 취주악콩쿨의 최고봉 「전일본취주악콩쿨・고교부」일명「음악 고시엔」. 매년 7월부터 각지역에서 예선대회가 시작되고 3천학교를 넘는 전국의 고교에서 겨우 열몇개의 학교만이 출전할 수 있는 전국대회. 그 긴 역사속에 어느 무명의 공립고등학교가 본선에 진출하여 우승한 기록이 남아있다.
1983년, 가나가와현립 노바고등학교. 편사치는 중위권의 하, 음악실에는 담배꽁초가 널려있다. 제대로 된 클럽활동도 없이 손쓸 수 없을 상태의 황폐함만이 남은 취주학부. 그런 그들을 불과 2년이라는 짧은 기간에 전국의 정점에 이르게 한 남자가 있었다. 만년 암과 싸워오면서 학생들을 따뜻하게 지도하여 영광으로 이끈 나카자와선생님과 학생들의 10년간의 실화를 바탕으로 사고로 음악과 인연을 끊고 삶의 의욕을 잃은 한 음악가 히쿠마 코이치와 꿈을 포기할 수 밖에 없었던 문제아들의 약2년간에 걸친 싸움을 그린 감동의 드라마.
---
由全國高中一齊參加的管樂部大賽,通稱為「音樂甲子園」,是在每年七月由各地的預賽開始,從超過3千個高中裡選出僅有十餘間學校參賽的激烈全國比賽。在這悠長的歷史中,某個無名的高中居然出乎意料地向冠軍獎座邁進,留下光輝的記錄。在1983年神奈川県立美崎高等学校,這一間偏差值極低的高中裡的管樂部,不僅音樂教室的地上丟滿煙蒂,還因活動停擺而幾近荒廢。這樣吊車尾的樂團居然在中澤忠雄老師的帶領下在短短兩年的時間內達到夢想的巔峰。依真實故事,由晚年得到癌症還是以熱情細心教導帶領學生迎向光榮的中澤忠雄老師與同學的十年軌跡的故事改編,描寫因為發生事故而背棄音樂的薩克斯風演奏家-樋熊迎一,是如何將荒廢高中的問題學生,迎向管樂部大賽冠軍的感人肺腑師生情連續劇。