CROWS: EXPLODE
クローズEXPLODE   클로우즈EXPLODE   CROWS : EXPLODE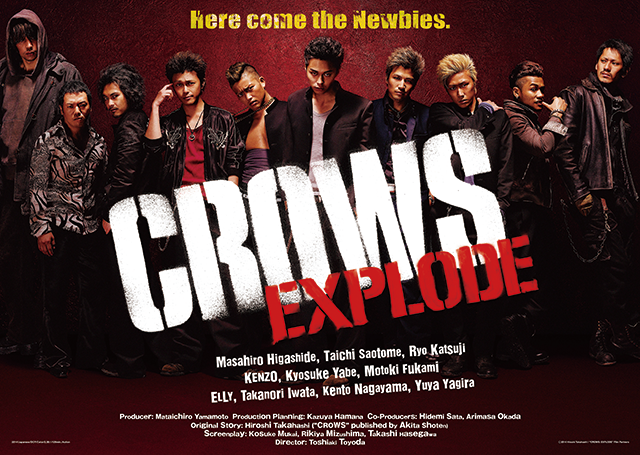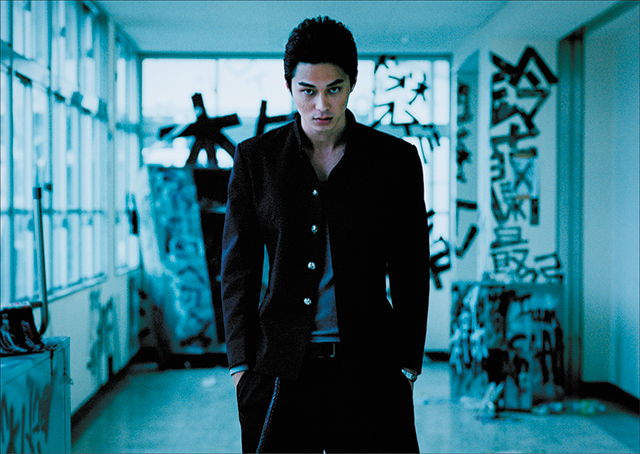 Broadcast Date
Japan Release: 2014.4.12
Episode / Duration
129 min.
Director
Scenario Writer
Kosuke Mukai (向井康介)
Rikiya Mizushima (水島力也)
Takashi Hasegawa (長谷川隆)

Cast
Masahiro Higashide (東出昌大)
Taichi Saotome (早乙女太一)
Ryo Katsuji (勝地涼)
Takanori Iwata (岩田剛典)
Kento Nagayama (永山絢斗)
Eita Okuno (奥野瑛太)
Yuya Yagira (柳楽優弥)
Kyosuke Yabe (やべきょうすけ)
Motoki Fukami (深水元基)
ELLY (ELLY)

A month after Crows ZERO II, a new school year is beginning at Suzuran High. That means the start of another long uphill battle among new seniors for supremacy of the school. Gora seems closest to king of the hill, but his closely contested by rivals, Tetsuji Takagi, Satoshi Terajima and his 5-man gang, and the plucky Kenichi Ogisu. But the arrival of 2 new boys threatens to completely alter the power balance at Suzuran: 3rd year transfer student, Kazeo Kaburagi, who lives as he pleases and shows no interest in the top spot, and freshman, Ryohei Kagami, who likes to fight with instinctive abandon. Gradually, these two unconnected and opposite characters are drawn toward each other and into the center of Suzuran's most epic battle ever.
---
클로우즈 제로II로부터 한달후. 신학기를 맞은 스즈란고교에서는 공석이 된 정점의 자리를 노리고 3학년생들이 자신의 이름을 건다. 정점의 자리에 가장 가까운 남자 고라 토오루, 그와 라이벌이 될 다카기 테쓰지, 5명을 통솔하는 데라시마 사토시, 경박하고 이성을 잃곤 하는 오기스 켄이치. 하지만 두남자의 등장으로 스즈란 세력은 크게 변한다.「자유롭게 살기 위해」라며 정점싸움에 관심을 보이지 않는 3학년 전학생 가부라기 센푸오와 본능에 충실하며 날뛰는 1학년 가가미 료헤이. 전혀 대조적인 두사람이 드디어 스즈란사상최대의 싸움의 중심인물이 되어 간다.
---
漂ノ男子漢(熱血高校)第二集的一個月後迎接新年度的玲蘭高校之頂點空位正被大家虎視眈眈著。新的三年級生中離頂點最近的男人們是「強羅徹」,他的競爭對手「高木哲次」,統帥五人軍團的「寺島聰司」,和假裝得意忘形容易生氣的「小岐須健一」。但就在兩個新角色出現後玲蘭的勢力版圖頓時有了大變動。一個三年級轉學生「鏑木旋風雄」和本能性喜歡打架的暴力一年級生「加賀美遼平」,這兩個沒有交集個性成正比的人將會成為玲蘭史上最大抗爭的中心人物。