INTERN!
インターン!   인턴!   青春實習生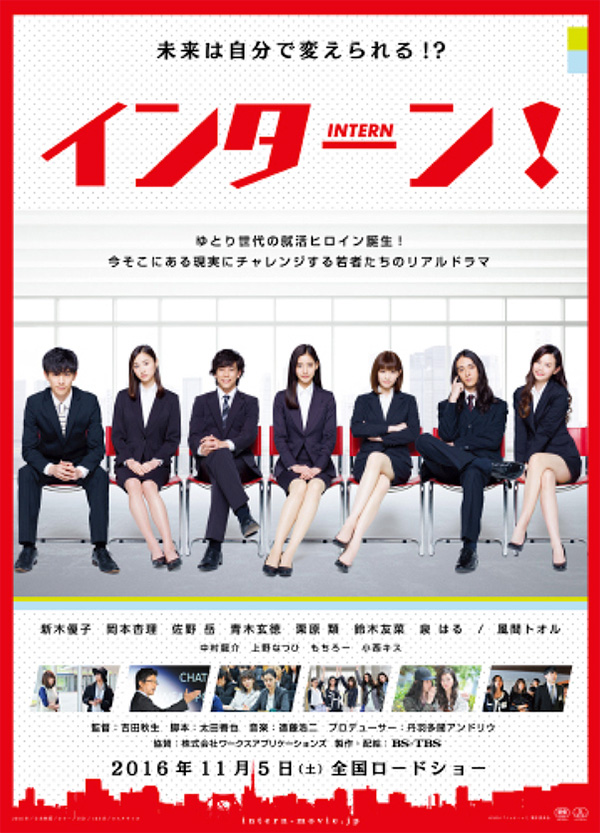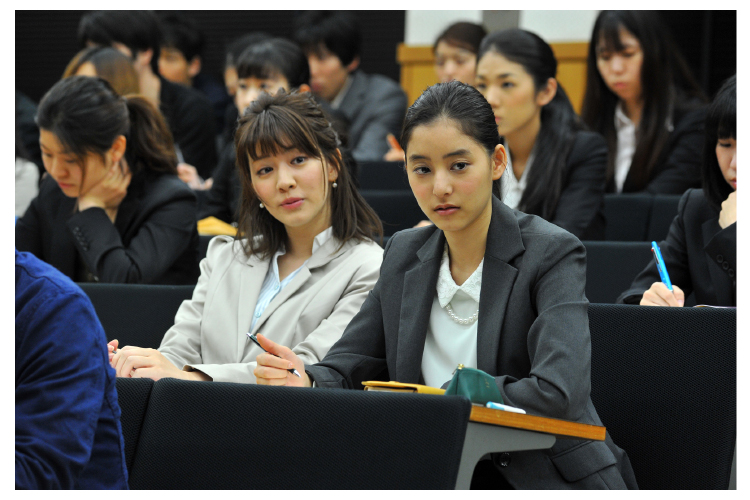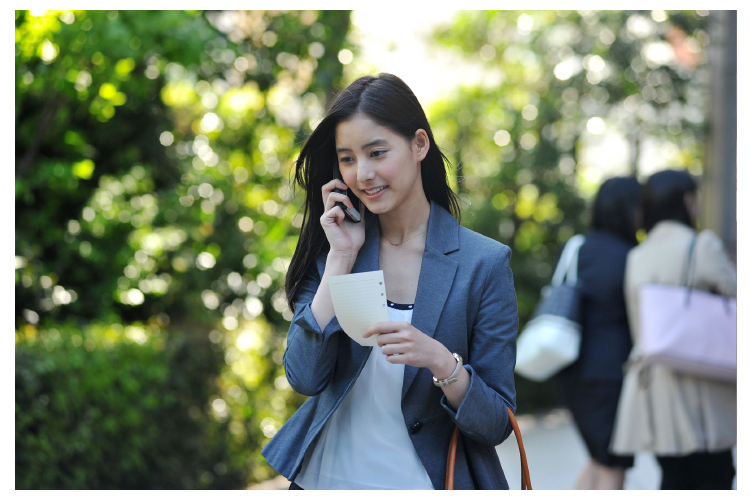 Broadcast Date
Japan Release: 2016.11.5
Episode / Duration
103 min.
Director
Scenario Writer
Cast
Yuko Araki (新木優子)
Anri Okamoto (岡本杏理)
Gaku Sano (佐野岳)
Toru Kazama (風間トオル)

College junior, Haruka, is invited by her best friend, Maki, to attend Works Applications (WAP) internship orientation. On her way home, Haruka is nearly hit by a car only to be saved at the last moment by WAP's CEO Makino, who sacrifices his own life. Makino wakes up in a hospital emergency room to be greeted by a man who introduces himself as "Death". He shows Makino's lifeless body on the bed below and explains that Haruka was supposed to have died in the accident, but Makino has traded destinies with her. The only way that both can be saved is if Haruka can change her future. Makino believes that if Haruka can become a star intern and be hired by his company, he will return to life. So he possesses Maki's mind in order to convince her to support Haruka as an intern.
Haruka, however, lacks confidence and is more concerned with a different passion: a "carta" (card game) club championship that she has scheduled on the last day of her internship. Haruka needs to get the club into competitive shape by then. Makino nevertheless continues to provide Haruka with advice despite the fact that she is just not cutting it as an intern.
Will Haruka be hired by the company at the end of her internship? All hinges on whether or not Makino in the form of Maki can get the carta club strong enough for the tournament.
---
대학 3학년인 하루카는 친구 마키의 권유로 워크스 아프리케이션즈(WAP)의 인턴쉽 설명회에 간다.귀갓길에서 하루나는 교통사고를 당할 위기에 처하고 마키노에 의해 구조된다. 병원의 집중치료실에서 의식을 찾은 마키노는 죽음의 신이라 말하는 남자를 만나고 침대에 누워있는 자신의 영혼없는 모습을 보게된다. 교통사고로 죽을 운명이었던 하루카를 도우면서 자신이 죽을 운명으로 바뀐것이란말을 듣는다. 죽음의 신은 두사람 모두 죽지 않으려면 하루카의 미래가 바뀌어야한다고 말한다.
하루카가 인턴에서 성적우수자로 입사를 하게 된다면 미래가 바뀔거라고 생각한 마키노는 마키로 빙의하여 하루카의 인턴생활을 도와주게 되지만 자신감없이 우유부단한 하루카는 좀처럼 의욕이 생기지 않는다. 게다가 인턴쉽 마지막날이 하루카가 부장을 맡고 있는 카루타 동아리가 단체전 대회에 출전하는 날이었다. 마키노는 마키로 빙의하여 어떻게든 하루카를 성적우수자로 만들기 위해 노력한다. 한편, 하루카의 희망대로 카루타 동아리의 재정비가 이뤄진다. 열심히 노력해도 항상 낮은 성적만을 받아오던 하루카는 사원카드를 손에 넣을 수 있을까? 그리고, 마키로 빙의한 마키노는 카루타동아리를 재건하여 대회에 출전할 수 있을까?
---
大學三年級的晴香被最好的朋友真希邀去一起聽WAP公司的實習說明會。
聽完演講的晴香在回家途中遇上交通事故時,剛好路過的WAP社長牧野犧牲自己救了晴香。在病房裡醒來的牧野,映入眼簾的是死神。死神告訴牧野,本該死去的晴香因為牧野的相救,死亡命運便由晴香轉到了牧野的身上。唯一能夠救活兩人的性命的辦法,是讓晴香未來的命運發生改變。靈機一動的牧野想到如果能夠讓晴香以優秀的成績從實習生計劃畢業,並轉為正式員工的話,就如同改變她的命運。於是牧野決定附身晴香最好的朋友真希來幫助晴香,隨時給她鼓勵和建議讓她能夠表現突出。但是晴香優柔寡斷的個性一直讓她裹足不前。
尤其讓晴香最掛心的是,實習最後一天和自己擔任團長的大學紙牌社參加的大會比賽是同一天。為了要讓晴香安心並在實習期間中表現優秀,依附在真希身上的牧野答應協助晴香重建紙牌社,讓紙牌社擁有可以在全國大賽勝出的實力。到底這兩個人能否達成對彼此的承諾呢?而牧野是否能成功轉變晴香的命運?