Love for Beginners
今日、恋をはじめます   오늘 사랑을 시작합니다   今天開始談戀愛吧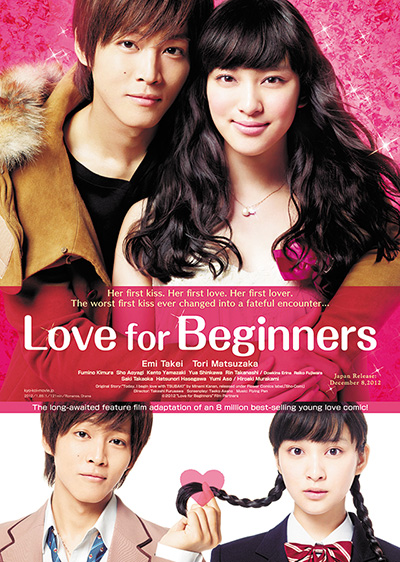 Broadcast Date
Japan Release: 2012.12.8
Episode / Duration
121 min.
Director
Scenario Writer
Cast
Emi Takei (武井咲)
Tori Matsuzaka (松坂桃李)
Fumino Kimura (木村文乃)
Sho Aoyagi (青柳翔)
Kento Yamazaki (山﨑賢人)
Yua Shinkawa (新川優愛)
Rin Takanashi (高梨臨)
Erina Dawkins (ドーキンズ英里奈)
Reiko Fujiwara (藤原令子)
Saki Takaoka (高岡早紀)

Tsubaki Hibino is a plain and studious teen whose life to this point has had little to do with love.. until she meets Kyota Tsubaki, a cute and smart yet exceedingly cocky, long-haired boy who happens to be the most popular guy in school and shares a common name. Teasing Tsubaki for outdated fashion and demeanor, Kyota proceeds to steal away her first kiss, leaving her incensed! But as she begins to catch glimpses of a softer nature behind his persona, she gradually finds herself drawn toward him. From her first date to her first kiss, Tsubaki starts to discover and struggle with a whole new world of feelings that only come with one's first love.
---
히비노 쓰바키는 수수한 외모에 연애와는 담을 쌓고 지내는 공부벌레 여학생이다. 쓰바키가 고교생활 첫날 어느 남학생 을 만난다. 우수한 성적에 미남이지만, 긴머리에 경박한 학 교제일의 인기남학생 쓰바키 교타. 쓰바키는 교타에게 촌스 러운 여자라고 놀림받으면서 갑자기 첫키스까지 당하는데! 갑작스런 키스에 놀라고 당혹스러우면서도 교타의 의외의 성격에 서서히 끌리는 쓰바키.
첫데이트, 첫키스, 모든게 처음이라는 것에 고민하면서도 좋아하는 사람과의 순간순간을 쌓아가면서 쓰바키도 조금 씩 변해간다. 과연 쓰바키와 교타의 사랑의 행방은?
---
日比野 Tsubaki(Hibino Tsubaki)是個老土不知打扮的書呆子,也是看起來永遠和戀愛沒有緣分的女生。而她在展開高中生活的第一天就遇上了,又會讀書、外表帥氣,留著長髮有點弔兒郎當但卻是全校最受歡迎的男生樁 京汰(Tsubaki Kyouta)。不止被京汰嘲笑說是"昭和女"之外,連她的初吻也突然的被他奪走了!對於突來的強吻讓她困惑而反感之外,漸漸地她發現了京汰的另一面,也不知不覺地開始被他吸引…。第一次的約會、初吻,對於所有都是初體驗的Tsubaki,除了煩惱之餘也因為能和自己心儀的人朝夕相處, 漸漸地有了些改變。Tsubaki 和京汰的戀情將會如何發展下去…?