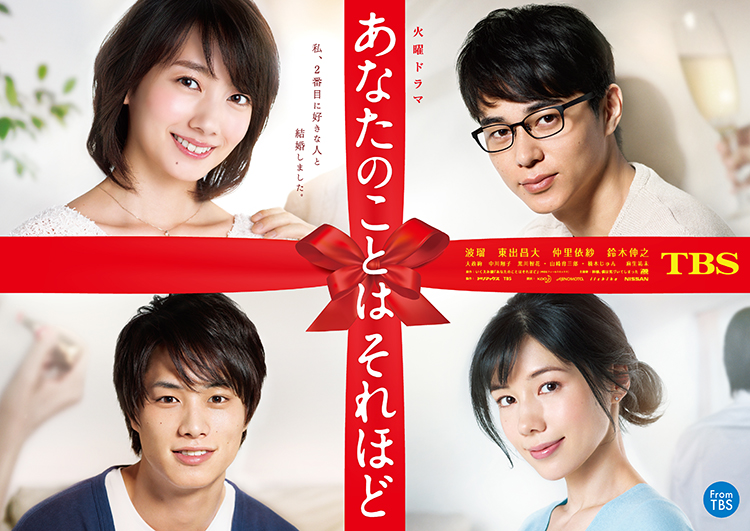 Broadcast Date
2017.4.18 - 2017.6.20
Episode / Duration
10 episodes 75 min × 1 ep / 60 min × 9 eps
Scenario Writer
Cast
Haru (波瑠)
Masahiro Higashide (東出昌大)
Riisa Naka (仲里依紗)
Nobuyuki Suzuki (鈴木伸之)
Aya Omasa (大政絢)
Shoko Nakagawa (中川翔子)
Tomoka Kurokawa (黒川智花)
Shin Narita (成田偉心)
Ikusaburo Yamazaki (山崎育三郎)
Jun Hashimoto (橋本じゅん)

Mitsu is a 29-year-old woman who married "the number 2 man in her life," but has been unable to forget her first love, Arishima. When she accidentally encounters him after several years, she feels it is destiny calling, and the two spend one night together in secret from their spouses. Airtime himself has just begun a family of his own, with a newborn child, but he and Mitsu find themselves continuing their affair. While they at first enjoy what seems to be a no-strings at-tached affair, it gradually begets subtle changes in feeling. Mitsu's husband, Ryota, becomes aware of the affair and ups his devotion to her to keep her. Meanwhile, Arishima's wife, Reika, is a picture perfect mother and devoted wife, throwing this four-way relationship into an increas-ingly complicated web of mixed emotions.
---
"두번째로 좋아하는 사람"과 결혼한 미쓰(29세)는 지금껏 마음에 두고 있던 첫사랑 아리시마와 우연히 재회한다. 미쓰는 운명이라 느끼고 남편의 존재를 고백하지 않은채 그와 하룻밤을 함께 지낸다. 한편, 아리시마에게도 출산한지 얼마되지 않은 아내가 있었지만 두사람은 비밀의 밀회를 이어간다.
불륜관계를 즐기고 있던 미쓰와 아리시마였지만 이윽고 미묘한 온도차가 생기기 시작한다.
아내의 외도를 알면서도 미쓰에게 집착하는 남편, 료타. 현모양처를 그림에 그려놓은 듯한 아리시마의 아내 레이카. 각각의 속내가 얽히면서 복잡한 사각관계로 깊어간다.
---
跟"第二喜歡的人"結婚的29歲的美都,偶然與一直繼續想念的初戀之人、有島再見。 信念猛烈的美都感到這是命運,不説自己已經有丈夫的和有島一起做一夜。一方面,有島也有剛生了小孩的妻子,但是兩個人繼續重復秘密的逢瀬。
雖然享受完闖入的婚外戀關係的美都和有島,但是微妙的溫度差別不久開始發生。
一邊知道妻子的見异思遷又一邊執著于美都的丈夫、涼太。 就像小説中描寫出來的賢妻良母様的堅實地有島的妻子、麗華。 4個人一邊分別的感情交錯,一邊突入復雜的四角關係・・・。