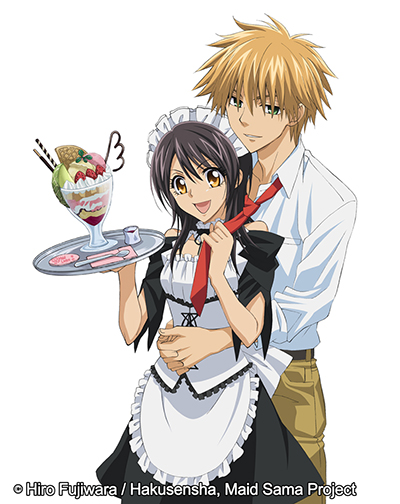 Broadcast Date
2010.4.1 - 2010.9.23
Episode / Duration
26 episodes 30 min. x 26 eps.
Cast
Ayumi Fujimura (藤村歩)
Nobuhiko Okamoto (岡本信彦)
Kazuyoshi Shiibashi (椎橋和義)
Kana Hanazawa (花澤香菜)
Yu Kobayashi (小林ゆう)
Mitsuhiro Ichiki (市来光弘)
Takuma Terashima (寺島拓篤)
Yoshimasa Hosoya (細谷佳正)
Kenichi Suzumura (鈴村健一)
Hiromi Igarashi (五十嵐裕美)

Seika High School, once an all-boys high school, is now a co-ed school where 80% of the students are males. With the population of female students being in the minority, the girls find themselves stressed out around the rude and insensitive boys. That's when the first-ever female student council president, Misaki Ayuzawa, saves the day! Good in both studies and sports, Misaki continuously fights to reform the school and allow the girls to feel as equals in the male-dominated environment. However, Misaki has a secret... She works part time at a maid cafe!
Misaki continues working at her part-time job while hoping that her secret won't be exposed. Unfortunately one day, she is seen in her maid costume by the school's most popular boy, Takumi Usui, which lands her in deep trouble! What will happen to Misaki as she continues living her double life as "student council president" and "Maid"!?
---
문무에 능한 완벽한 회장님은 사실은 메이드였다 !
원래 남고였던 세이카고교는 남학생수가 80% 를 차지한다 . 매너없고 무신경한 남학생들을 보면서 여학생들은 인내하 면서 하루하루를 보내고 있다 . 그런 어느날 첫여학생회장이 된 아유자와 미사키 . 미사키는 학교의 질서를 바로잡고자 매일 분투한다 . 그런 미사키에게는 한가지 비밀이 있었다 . 바로 메이드카페에서 아르바이트를 하는 것이었다 . 주위에 들키지 않도록 조심조심 아르바이트를 하지만 학교제일의 얼짱남 우스이 타쿠미에게 들키고 만다 . 학생회장과 메이 드 , 미사키의 이중생활은 어떻게 전개될까 !?
---
文武雙全的學生會長,原來是「女僕」!
(原)男校的星華高中雖成為了男女合校,但還是有近八成爲男生的人數。佔少數的女學生成天就為了忍受那些粗野又沒有大腦的男生而煩惱。為了打破成規與蠻橫的男生對抗,第一屆女學生會會長誕生,其名為鮎澤 美咲。文武雙全的美咲, 過著規律的高中生活。但,美咲藏著一個秘密-其實她在「女僕咖啡廳」兼差打工 !!一直小心翼翼保密行動的美咲,竟然被全校最受女生歡迎的型男碓冰 拓海給撞見。史上最大的危機 !擁有「學生會長」與「女僕」雙重身份的美咲,如何面對接下來的校園生活呢?