MOZU
劇場版 MOZU   극장판 MOZU   劇場版 MOZU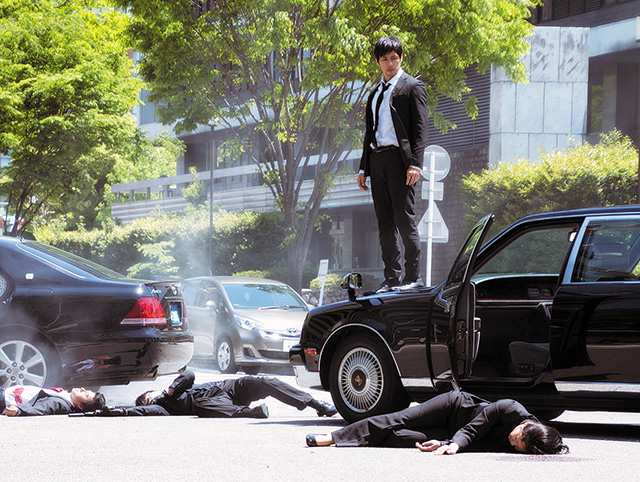 Broadcast Date
Japan Release: 2015.11.7
Episode / Duration
116 min.
Director
Cast
Hidetoshi Nishijima (西島秀俊)
Teruyuki Kagawa (香川照之)
Yoko Maki (真木よう子)
Beat Takeshi (ビートたけし)
Sosuke Ikematsu (池松壮亮)
Atsushi Ito (伊藤淳史)
Hana Sugisaki (杉咲花)
Hiroki Hasegawa (長谷川博己)
Fumiyo Kohinata (小日向文世)
Yusuke Iseya (伊勢谷友介)

6 months have passed since national security policeman, Kuraki, along with fellow investigators Osugi and Akeboshi started poking around into a mysterious wife and child murder case. The so-called Mozu Incident exposed part of a shadowy organization within the police department, but proved to be only the tip of the iceberg for a much larger conspiracy. Two simultaneous terrorist acts, a skyscraper occupation and bombing, and the attacking to the embassy of Penam have put Kuraki and his team on the trail of "criminal planner" Takayanagi and professional assassin, Gondo. But they both work for someone deeper behind the scenes, cryptically known as "Daruma", a man tied to Japan's criminal history and who has been working on some elaborately nefarious plan. Kuraki and his partners' pursuit of the truth take them to the Republic of Penam where they find themselves embroiled in deadly confrontation with their last true enemy, Daruma.
---
아내의 의문의 죽음을 조사하는 공안경찰관 구라키는 오스기, 아케보노와 함께 일련의「MOZU사건」에서 경찰내부에 숨겨진 어둠을 백일하에 드러냈다. 하지만, 그것은 엄청난 모략의 빙산에 일각에 불과했다.
6개월 후, 고층빌딩점거 폭파사건과 베트남대사관 습격사건, 두개의 대규모테러가 동시에 발생한다. 이것은 범죄계획자 다카야나키와 청부살인업자 곤도의 일행에 의한 범행이었다. 사실 그들은 일본사건사에 어둠으로 알려진 존재「다루마」라는 이름으로 어떤 범죄계획을 극비리에 진행시키고 있었다. 작열하는 베트남을 무대로 사건의 진상을 쫒는 구라키 일행과 마지막 적수인 다루마와의 사투가 펼쳐진다.
---
持續調查妻子死因的公安警察 倉木和同伴,大衫和明星一起隨著一連串的MOZU事件將警察內部裏的暗黑攤在光天白日下。但是他們萬萬想不到,那只不過是恐怖策略的冰山一角而已。
距離同時發生的兩起大規模恐怖份子事件,獨佔高樓大廈爆炸事件和越南大使館襲擊事件以來已過半年。這兩起都是由犯罪計劃家高柳和暗殺專門家權藤所犯下的罪行。而他們所屬的組織是同樣的,並被稱為日本事件史上的最暗黑的存在-達摩。
而達摩已經正在進行下一個犯罪計劃。以炎熱的土地為名的越南共和國為舞台,窮追事件真相的倉木們和最大的敵人達摩的一場生死之戰即將開幕?!